For 35 years, the story of Nancy Corrigan, Jackie Cochran, and Nancy Harkness Love and their brave team of female pilots was kept a secret. These women were unspoken heroes of World War II. They flew 80 percent of all ferrying missions and freed up around 900 male pilots for combat roles. What's more, they flew over 60 million miles, trained both male and female air cadets, and yet, even today, their names remain unfamiliar.
◊
Can you name a notable female pilot other than Amelia Earhart? Didn't think so.
But she wasn't the only pioneering woman to leave her mark on the early history of aviation. There were others who flew under the radar – women who defied limits the aviation brotherhood imposed – and redefined the "norm" for aviation. Not to mention they played an important role in winning the Second World War.
So, let's take a closer look at the contributions of three remarkable women aviators and the organizations they helped found and lead.
Irish-American Nancy Corrigan Flies High
Earhart was an inspiration to all the other pioneers of women's aviation, women like Nancy Corrigan. Born in Ireland, Corrigan emigrated to the U.S. and trained as a pilot in Cleveland, Ohio. This was in the 1930s, a time when women were not commonly involved in aviation. To support herself, she worked full-time as a nursemaid, and later as model in New York City. But during her free time, she was learning up in the skies.
Not only was aviation unwelcoming to women, it was also expensive. Corrigan saved up money to take flying lessons in Cleveland. Incredibly, she earned her solo pilot rating after fewer than five hours of flying (a necessity due to her small budget), and was the second woman in the U.S. to earn a commercial pilot's license.
As World War II loomed, it was obvious that well-trained pilots would be needed. This reality opened the door for Corrigan. As a founding member of the Women Flyers of America (WFA), she was recruited to train U.S. Army Air Corps and civilian pilots, first in New York and then at Spartan College of Aeronautics and Technology in Tulsa, Oklahoma. Later, she became head of the Aeronautics Department at Stephens College in Arkansas, where she supervised young women in their flight programs, with not one failed test.
Learn more about the inspiring life of Nancy Corrigan in the MagellanTV documentary Sky Blazer: The Story of Nancy Corrigan.
Jackie Cochrane and Nancy Love Make the Case for Women Flyers
In 1939, there were only around 20,000 pilots in the Army Air Corps, but that number would grow to almost 200,000 after the U.S. entered the war. Even with those numbers, though, there would not be enough men to do every job. So, foreseeing the shortage, another notable female pilot, Jacqueline "Jackie" Cochran, wrote to First Lady Eleanor Roosevelt advocating for female pilots to be put to work. In her message, Cochrane suggested that women pilots should fly non-combat missions to free up men for combat roles – and that these women should have their own division in the Air Corps.
Around the same time, Nancy Harkness Love, another pioneering aviator, also lobbied the Air Corps to recruit women pilots. The job of these women would be to ferry aircraft to military bases from the factories where the planes were built, as well as to tow drones and aerial targets. Nancy Love's husband, who was in the Army Air Corps, and Colonel William H. Turner also showed interest in Love's proposal, and they created an aircraft ferrying program with women pilots becoming part of the group.
Gearing Up for War
On December 7th, 1941, disaster struck. The U.S. was attacked on its own soil at Pearl Harbor, Hawaii. The United States was forced to enter the war, which required an enormous increase in military personnel for all the armed services. But as millions of men were recruited or drafted, the overall shortage of people to get the jobs done became all the more apparent. Suddenly, the government was asking women not only to support the war effort but, in fact, to take over industrial and service jobs that had been vacated by men marching off to war.
By the autumn of 1942, persuasive women like Jackie Cochrane and Nancy Love had been heard loud and clear. With Love as the director of the group, the Women's Auxiliary Ferrying Squadron (WAFS) was formed. (This group operated much like Corrigan's WFA.)
The requirements for being a female pilot were strict; they needed to be between the ages of 21 and 35, have a high school diploma, a 200 horsepower engine rating, a commercial flying license, 500 hours of flight time, and experience in flying across the country.
In the beginning of the WAFS, a mere 28 female pilots were flying planes from factories to airfields, but necessity drove their numbers rapidly higher. The first-ever group of WAFS recruits became known as "the Originals," with Betty Gillies, a pioneering pilot in her own right, as the first to show up for training. She would rise to become executive officer and second-in-command of the WAFS. Gillies was no easy leader. She led rigorous drills and whipped the trainees into shape, and within a month she had them ready for their first mission, which she commanded.
Once the WAFS pilots were trained, they were immediately assigned to ferry plans. The team was so successful that three new squadrons were formed by 1943.
In September 1942, Cochran was appointed director of "Women's Flying Training," and her training recommendations were put into place, thus forming the 319th Women's Flying Training Detachment. General Arnold set a goal for 500 women pilots to be trained and to participate in ferrying planes. The first class of trainees was known as the "Guinea Pigs."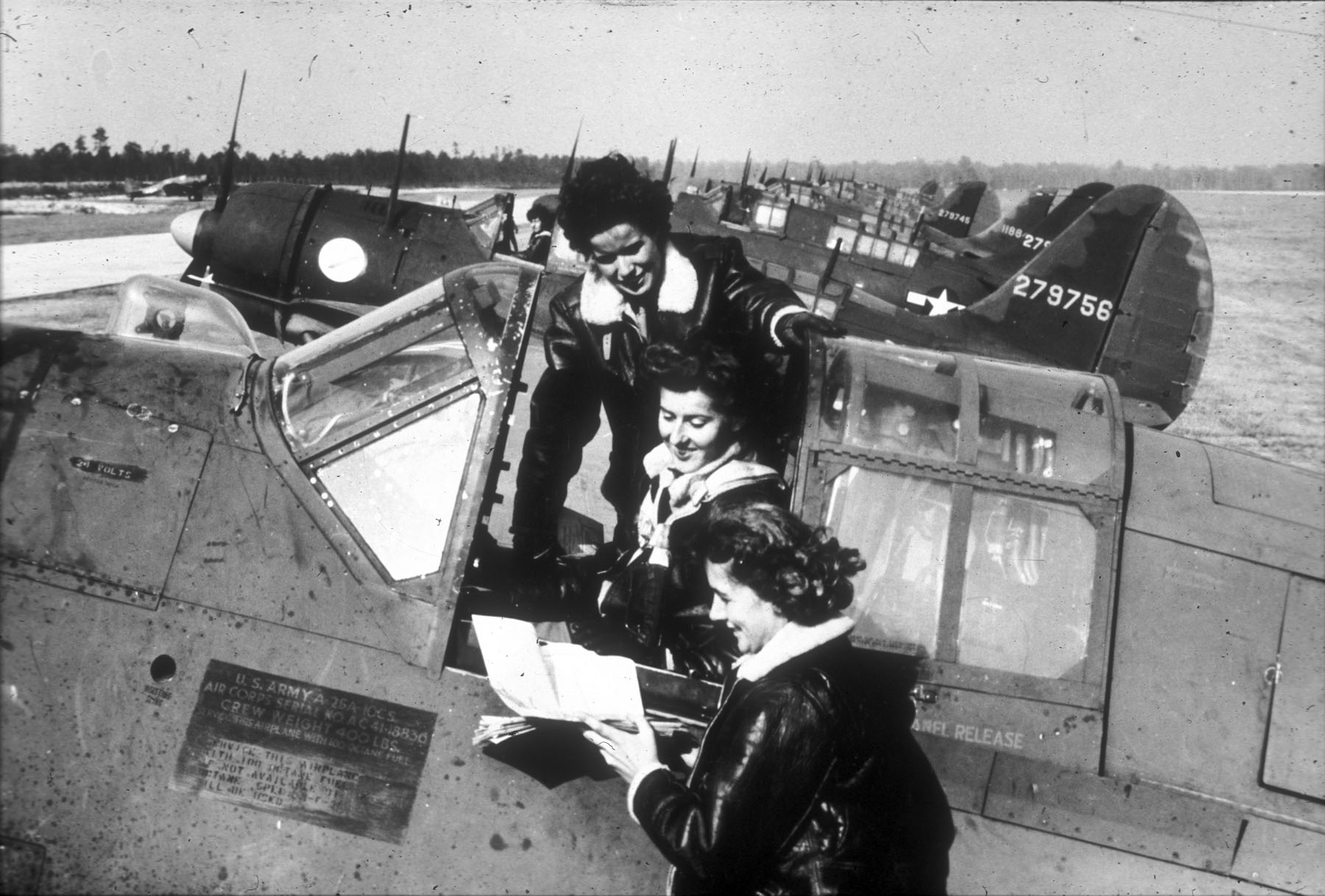 WASP member in flight training. (Credit: U.S. Air Force, via Wikimedia Commons)
It's important to note that these women were expected to perform to a standard of excellence, but the aircraft they trained on were old and, in many cases, not exactly safe to fly. In essence, the women pilots were viewed as expendable – their purpose was to support the men who would fly the combat missions.
Creation of the WASPs
Early in the war, women's aviation was divided between the WAFS and the Women's Flying Training Detachment (WFTD). Cochrane recognized that this split was counterproductive and pushed for the establishment of a single entity to oversee the training and deployment of all aviatrices. Initially, many male senior officers resisted, but, in July 1943, the WAFS and WFTD merged into the Women's Airforce Service Pilots – the legendary WASPs. Nancy Love remained as executive officer of ferrying assignments and operations.
Once training was complete, WASPs were stationed at 122 air bases across the U.S., where they completed their flight assignments and freed up male pilots for combat. They also began towing the flying targets used for training fighter pilots – a particularly dangerous assignment, as the towing planes would sometimes be accidentally shot down. All WASP pilots were required to fly these missions, and a number of them lost their lives as a direct result.
WASPs flew all types of aircraft used by the U.S Army Air Corps during World War II. Exceptional women were given exceptional tasks, such as piloting rocket and jet-propelled planes and working with radar-controlled targets. At one point, some men balked at flying difficult planes, so two WASP pilots were trained to fly them. (It was later learned that the women pilots were used to embarrass the men who refused the hazardous assignments.)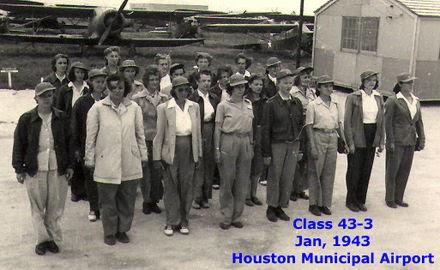 WASP members at attention. (Credit: Lois Haley, via Wikipedia)
During the war, aviatrices flew 80 percent of all ferrying missions and delivered over 12,000 planes to their airfields, thus freeing up around 900 male aviators for combat assignments. In the process, the women flew more than a whopping 60 million miles.
Thirty-eight WASP members lost their lives while serving and training. Outrageously, because they were classified as civilians at the time, no money was allocated to pay for their funerals. Leaders like Cochran paid for the funerals out of their own pockets and had to drive the bodies home themselves.
In June 1944, with many male civilians lobbying against a bill to give WASP participants active military status, the House of Representatives Committee on the Civil Service proclaimed that the WASP program was unnecessary and too expensive. Although Cochran and many other women pilots pushed back and asked for help from supporters, the Women's Airforce Service Pilots program was disbanded on December 20th, 1944, less than a year before World War II ended.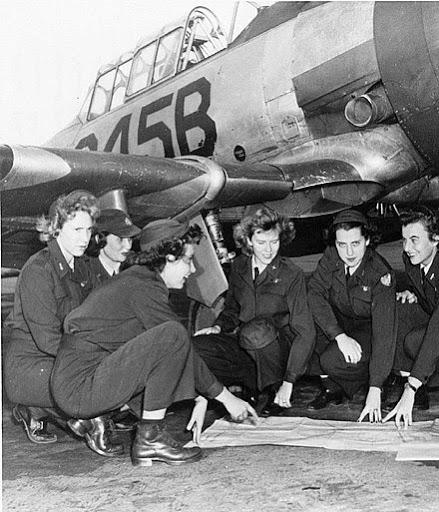 WASP training. (Credit: U.S. Air Force, via Wikipedia)
Recognition Comes Late
Women who joined the WASPs defied conventional social and gender norms. The organization admitted several Chinese and Hispanic Americans, as well as a Native American to its ranks. It must be noted, however, that several African American applicants were rejected by the program, including Mildred Hemmans Carter, a pioneer among Black aviators. In 2011, a few months before her death, Carter was officially recognized as a WASP.
Official recognition of the role WASP played during the war was a long time coming. Amazingly, the program's achievements were kept secret and sealed for 35 years. In 1977, WASP members were granted veteran status for their service, and, in 2009, the U.S. Congress passed, and President Barack Obama signed, a bill bestowing the Congressional Gold Medal on the organization.
Nancy Corrigan, Jackie Cochran, and Nancy Harkness Love – and the organizations they founded or led – inspired generations of female pilots who followed and blazed a trail for them into the skies. Today, women can become commercial and even military combat pilots as well as astronauts and high-ranking U.S. Air Force officers. Perhaps most importantly, they are unafraid to soar higher than ever before.
Ω
Title image: These four female pilots leaving their ship, Pistol Packin' Mama, at the four engine school at Lockbourne AAF, Ohio, are members of a group of Women Airforce Service Pilots (WASPS) who have been trained to ferry the B-17 Flying Fortresses. L to R are Frances Green, Margaret (Peg) Kirchner, Ann Waldner and Blanche Osborn (courtesy of U.S. Air Force via Wikimedia Commons).