When researchers discovered Toumai, a human-like skeleton that is around seven million years old, they were forced to reevaluate their understanding of the timeline of human evolution. But Toumai was only one of the mysterious and incredibly ancient piles of bones to fundamentally alter our perception of our own origins. As far as knowing where we came from and when, exactly, we became what we are, bones are some of our best (and only) clues.
◊
In 2001, researchers discovered a fully intact skull buried deep in the deserts of Central Africa. They named the skull Toumai, a word that means "hope of life" in the tongue of a nomadic tribe called the Toubous who roamed the Chadian desert where the skull was discovered.
Further investigation revealed that Toumai – a human-like creature, if not entirely human – was seven million years old, making him our oldest known ancestor. The paleontologists' discovery that day forced the scientific community at large to rewrite their understanding of the origins of humanity.
Any study of the distant past is always labyrinthine, and the ancient origins of humans are criss-crossed by contradictory timelines and strange revelations. Somehow or other, we arrived in the bodies we inhabit today – somewhere, the human species was born. But ancient bones might be our best keys to identifying just how that happened.
Watch Toumai: The Oldest Living Ancestor on MagellanTV.
When Did the First Humans Actually Appear?
Unless you believe that humans spontaneously appeared fully formed in a garden complete with a snake and a cursed apple, you likely understand that humans are the product of many millions of years of evolution. The current scientific consensus is that the earliest human ancestors emerged between 6 and 8 million years ago on the continent of Africa, where we evolved from a common ancestor we share with chimpanzees and gorillas.
But to really identify the origins of humanity, we have to look back even further. Billions of years ago, a gigantic explosion . . .
Okay, maybe we don't need to look that far back. Instead, let's turn our attention to around 55 million years ago, when the first primitive primates emerged on Earth. The original primate-like mammals were similar to squirrels in size and appearance, and somewhat resemble prosimians like lemurs and lorises. Over the years, they developed larger and larger brains and bodies.
The term "hominid" refers to a broad group of creatures that consists of chimpanzees, gorillas, humans, and our ancestors. The term "hominin" refers exclusively to humans and our bipedal ancestors, which include the genera Homo, Australopithecus, Paranthropus and Ardipithecus. These definitions have changed over time as science's understanding of human evolution shifted, thanks in part to discoveries noted in this article.
There is no exact consensus on where these primate ancestors lived, but some experts have proposed that different species may have lived in modern-day Kenya, Chad, Turkey, and Central Europe. There are some evolutionary models which suggest that Graecopithecus, which lived in northern and southern Greece about nine million years ago, is the only direct human ancestor, while others suggest that there were many different species that eventually evolved into humans.
We do know that around eight million years ago, primate and humanoid lineages began to diverge. Approximately four or five million years ago, one of the earliest human traits, bipedalism (or the ability to stand up on two feet), evolved. The majority of scientists believe that there were around 15 to 20 different species of early human ancestors who were bipedal (meaning they walked on two feet) and yet retained elements of their primate pasts.
"The story of human evolution is the story of bones." — Abhijit Naskar, Homo: A Brief History of Consciousness
So, with that in mind, let's embark on a tour through some of the most illustrious and groundbreaking fossils ever discovered. The study of early human evolution, also known as paleoanthropology, aims to understand the ways evolution has shaped humans physically, mentally, and culturally. In paleoanthropology, ancient fossils are the clearest and most accurate ways to study and understand our ancient past. Perhaps, by better understanding our past, we'll learn more about our present world in the process.
Toumai: An Ancient Skull, A Modern Revelation
Toumai was discovered by an international team of French and Chadian paleontologists, led by Michael Brunet, who had dedicated his life to searching for the oldest remnants of humans. Prior to finding Toumai, Brunet had spent over a decade digging in the deserts of Chad, searching for something familiar amidst the sand.
The night he discovered Toumai, Brunet arose to look at it twice. "I had to make sure it was not a dream," he said in a profile in Science magazine. "I had been looking for this for so long that I could not believe it was true."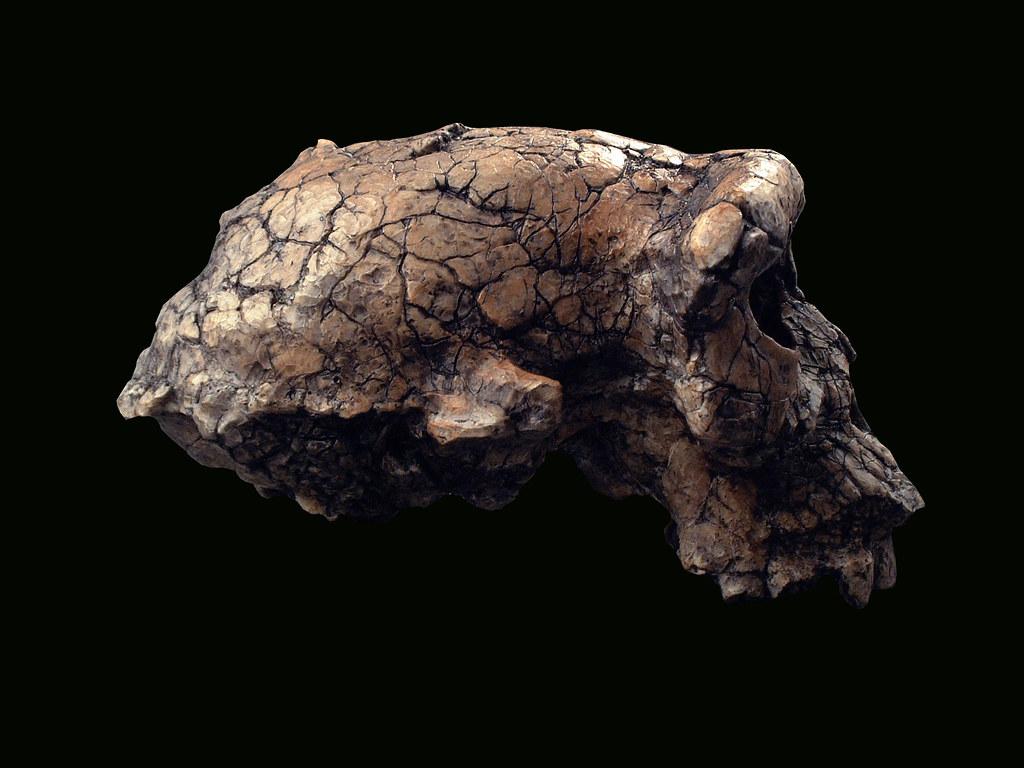 Toumai (Image Credit: NCSSM Photos via Creative Commons)
But true it was, and further investigation revealed that his discovery was even more revelatory than originally believed. At around six or seven million years old, Toumai effectively negated the prevalent scientific consensus of the time, which was that the oldest humans arose no more than a million years before.
Toumai revealed that the split between humans and chimpanzees happened far earlier than originally believed. The skull also posed a challenge to the "East Side Story" theory, which proposed that the first humans appeared in the Great East African Rift Valley. This had been the prevalent theory since the discovery of Lucy.
Lucy Reshapes Life On Earth
Decades after she was discovered, Lucy remains one of the most famous and beloved fossils ever found. She was discovered in Ethiopia by Donald Johansen and Tom Gray in 1974, and reshaped our entire understanding of the origins of human beings.
Named after the Beatles song "Lucy in the Sky with Diamonds," Lucy was, at the time of her discovery, the oldest hominin ancestor ever found. Like Ardi, who lived a million years before her, Lucy was an upright walker with a small chimp-sized brain, and most likely spent much of her time in trees.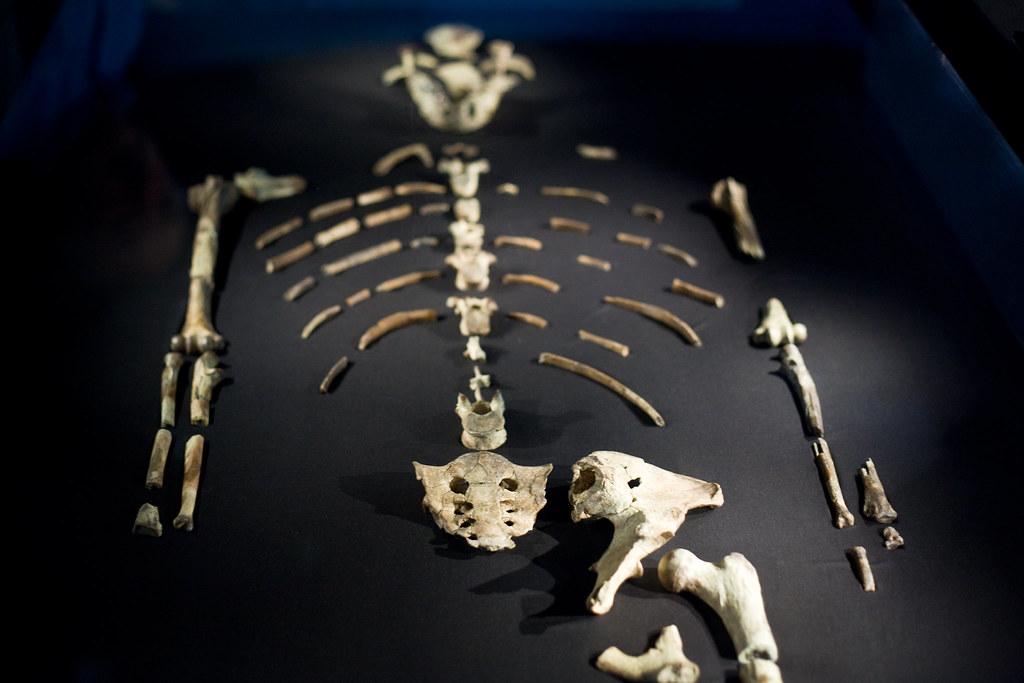 Lucy (Image Credit: Jason Kuffer via Creative Commons)
Studies of food remains on Lucy's teeth suggested that she might have been eating meat, a marked change from Ardi and her vegetarian ancestors. Some scientists proposed that, since Lucy had been found surrounded by fossilized crocodile and turtle eggs, she might have died while collecting eggs from a lake. Studies determined that she was likely 12 years old when she died.
The discovery of Lucy led to a surge in interest in newly identified species of neither-human-nor-ape ancestors, which include Ardipithecus and A. sediba. This discovery ultimately led scientists to conclude that evolution is not a linear process, but rather involves a great deal of experimentation and extinction along the way.
Ardi Sparks A Controversy In the Paleoanthropology World
Twenty years after Lucy was unearthed, another skeleton shook up contemporary science's understanding of human evolution.
In 1994, graduate student Yohannes Haile-Selassie was exploring the moonlike badlands of Ethiopia when he unearthed a few fragments of skull. Later on, an international team of scientists arrived on the scene to examine what turned out to be the most complete of all early hominid skeletons ever discovered. After an exhaustive 17 years of research on the skeleton, they emerged with extraordinary findings.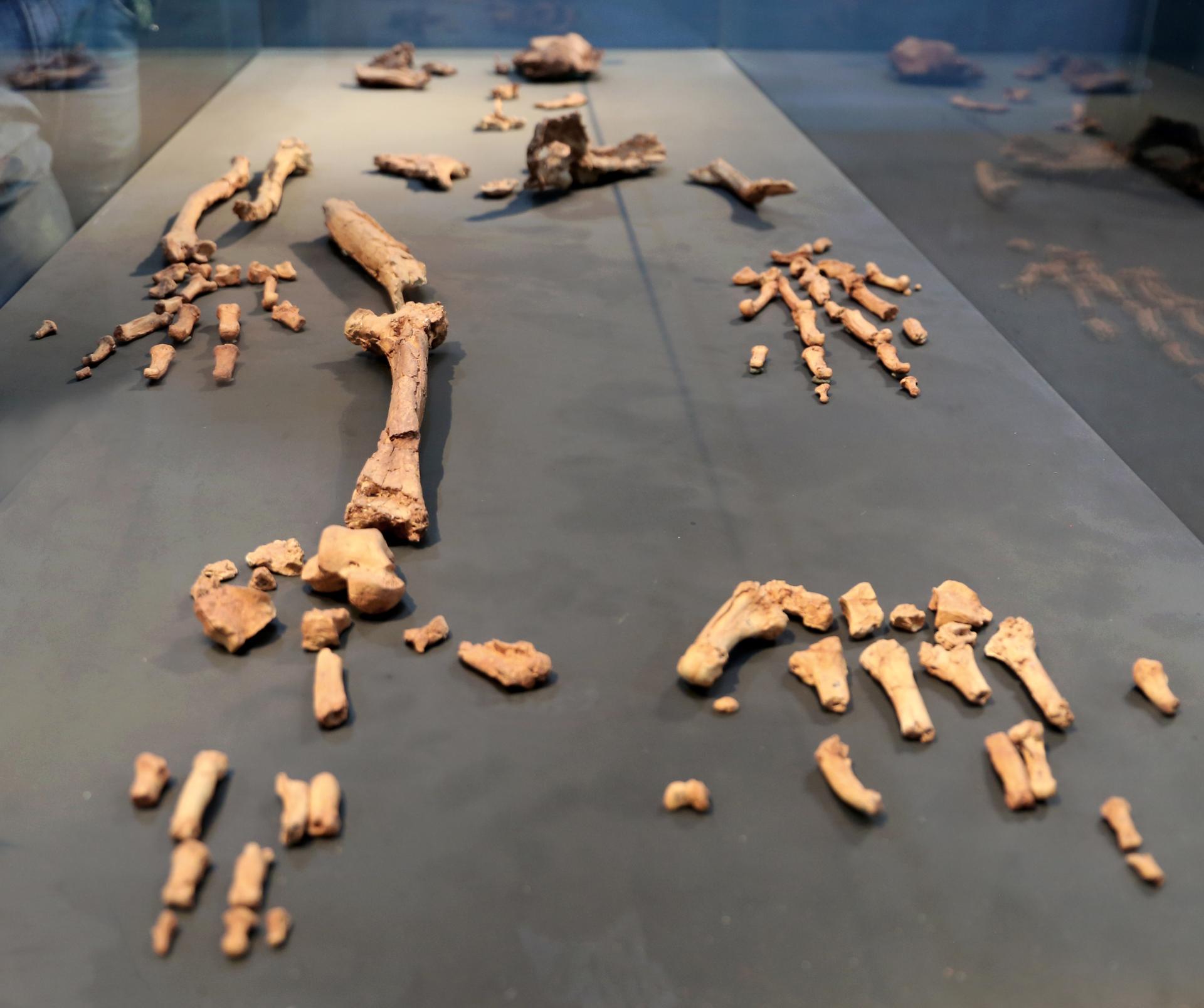 Ardi (Image Credit: Sailko via Creative Commons)
Standing at 1.2 meters tall, the skeleton of Ardipithecus ramidus – nicknamed Ardi after her genus – cut a small frame, but she made big waves across the scientific community. Ardi is unique because she possesses both human-like and primate features, making her a rare window into a relative gray area in the timeline of human evolution: the juncture between primates and humans.
While Charles Darwin theorized that the first human ancestor would be a direct descendant of chimpanzees, Ardi's skeleton proposed a different narrative. "This find is far more important than Lucy. It shows that the last common ancestor with chimps didn't look like a chimp, or a human, or some funny thing in between," said Alan Walker, a paleontologist from Pennsylvania State University.
Scientists have concluded that Ardi, who is likely around 4.4 million years old, stood upright but also possessed large thumbs that probably allowed her to climb trees. The makeup of her skeleton suggested she may have walked upright on the ground but maneuvered on all fours while in the trees. Unlike chimps, she also possessed small, diamond-shaped canines, suggesting that she probably dined on fruit and nuts.
Other Discoveries Shake Up the Timeline: The UR 501 Jawbone and a Skull Fragment in Greece
Discovered in 1991 at the Uraha Hill paleoanthropological site in Malawi, Africa, the UR 501 jawbone is the oldest known fossil from the genus Homo, coming in at an estimated 2.5 to 2.3 million years old. It belonged to a human from the group Homo rudolfensis, and its existence indicated that early hominids used to migrate between the northern and southern parts of the continent, perhaps driven by a changing climate.
"Finding an early hominid in Central Africa suggests that there was a migration route through the East African rift system, which extends 3000 kilometres from the Afar region of Ethiopia to southern Malawi." — Sarah Bunney for New Scientist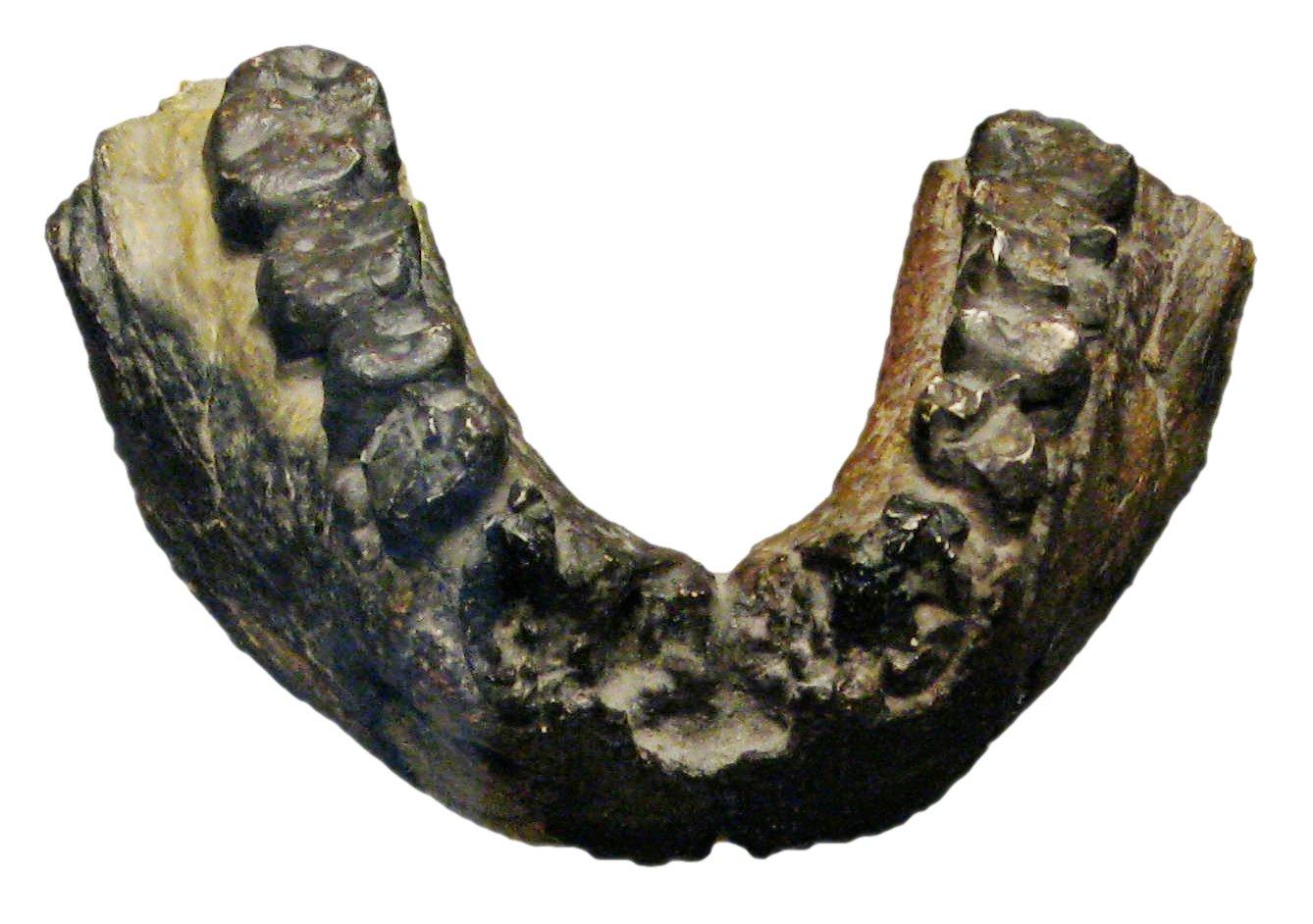 The UR 501 Jawbone (Image Credit: LoKiLech via Wikimedia Commons)
Later on, in 1978, anthropologists from the University of Athens School of Medicine were exploring a cave called Apidima on the Peloponnese. They discovered small shards of a pair of skulls embedded in the roof of the cave, and spent years trying to remove the fossils from their rocky tombs.
When the fossils were at last pried from their resting place, they were named Apidima 1 and Apidima 2. The former was identified as a Neanderthal, but the latter possessed some strangely humanoid characteristics, including a smooth, round skull – a trait that is distinctively human.
It turned out that Apidima 2 was 170,000 years old and Apidima 1 was at least a whopping 210,000 years old. This made Apidima 1 the oldest human fossil to be found anywhere outside of Africa, and its age meant that humans had arrived in Europe far earlier than previously believed — perhaps over 200,000 years ago as opposed to the 70,000 years ago initially estimated by scientists.
What Old Bones Teach Us About Ourselves
Ancient bones can teach us a lot about the past, but they can also inform our perception of the present. While all these fossils can reveal a great deal about how our bodies came to be the way they are, they also raise questions about how and why our minds evolved to work in certain ways.
Ancient skeletons can also give us clues about the origins of everything from childhood to contemporary gender roles. And simply studying the habits of our primate ancestors makes it clear that certain aspects of human existence, such as familial and tribal ties and the desire to hoard resources when the going gets tough, have probably been ingrained in us for millions of years.
At some point, though, our primate-human ancestors veered away from the earlier primates they had been. At some point, they rose upwards and their brains ballooned in size, and they had to develop the self-referential, reflective consciousness that humans are so noteworthy for. At some point, some creature looked at the sky and questioned its own place in the universe for the first time. So, it follows that the study of evolution is also bound up in the study of the origins of consciousness.
Fun fact: There is a theory that proposes that apes may have developed reflective consciousness by ingesting psychedelic mushrooms.
Tracing the course of humanity's past is a complex endeavor no matter how you go about it, and the paleoanthropologists who attempt to map the origins of humanity on the basis of a few fossilized bones are certainly heroic for attempting. Still, though, the fact that the timeline of human evolution continues to be shaken up over and over again based on new fossil discoveries teaches us that the past is more full of mysteries than we could ever dream.
Studying ancient fossils also highlights just how influential climate changes were to the evolution of our ancient ancestors. As the climate changes yet again – this time thanks to humankind's overuse of fossil fuels – it's hard not to imagine that our species might have to evolve once more in order to adapt (that is, if we don't go extinct first).
Ω
Title Image: Toumai (Credit: Wikimedia Commons)