In 1960, a Cuban photographer snapped one of history's most iconic pictures.
◊
At 3:10 p.m. on March 4, 1960, in Havana, Cuba, an explosion rocked the freighter La Coubre. Approximately half an hour later, an even more violent blast erupted. Between 75 and 100 people were killed by the explosions, and hundreds more were injured.
The ship, which had traveled from Antwerp, Belgium, was unloading its cargo of munitions for the Cuban regime of Fidel Castro. Although a definitive cause of the tragedy has never been determined, authorities at the time, including Castro himself, immediately and vehemently blamed the United States, which had become increasingly hostile in the aftermath of the Cuban Revolution. The U.S., with equal vehemence, denied the allegation.
The next day, March 5, a procession of Cuban leaders, along with visiting dignitaries (including Jean-Paul Sartre and Simone de Beauvoir), marched to Havana's Colón Cemetery, where a memorial rally took place. One of the speakers was Ernesto "Che" Guevara, the charismatic revolutionary who was playing a central role in the new regime's consolidation of power. Below the stage was photographer Alberto Korda, who pointed his camera up at Che and snapped what would become one of the most iconic photos in history.
For a fuller picture the Cuban revolutionary who was revered by many but reviled by others, check out MagellanTV's Che Guevara: Beyond the Myth.
The Photograph Gains Immortality
The photograph captures Che Guevara, wearing a beret and a military uniform, gazing off into the distance as if into the future. Che's determined expression evokes a sense of defiance, idealism, and revolutionary spirit. The photo, commonly known as "Guerrillero Heroico," was not widely published at the time, but in the following years it gained prominence and became associated with leftist revolutionary ideology not only in Cuba but around the world.
Its status as a truly classic image emerged later in the 1960s when it was reproduced and emblazoned on posters, T-shirts, and other forms of media, particularly during the countercultural movements of that era. It was tie-dyed, silkscreened, colorized, adapted, and circulated from Berkeley to Oxford to Paris. (In Miami, however, it was not so popular among the refugees from Castro's Cuba who viewed it through a very different lens.) Along with Che Guevara himself, the photograph became a symbol of rebellion, solidarity, and anti-establishment sentiment, transcending its original context.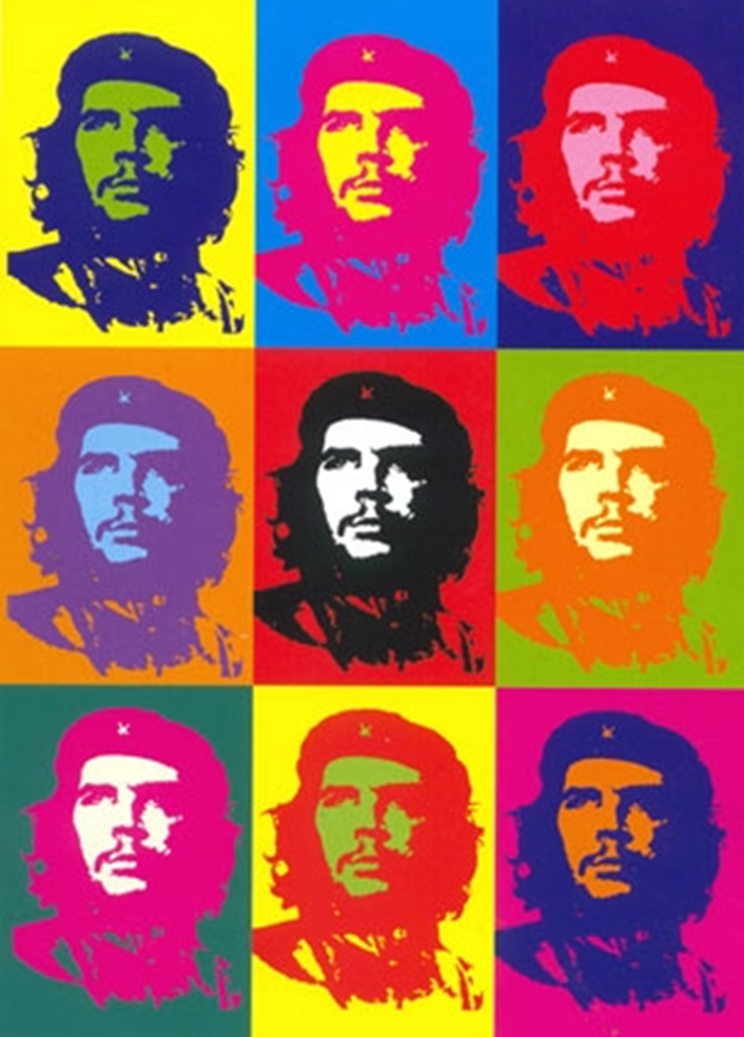 "Authenticated" by Andy Warhol as his work, this version of the photo is actually a forgery by his studio associate, Gerard Malanga. (Source: WikiArt)
The Photographer and His Subject Were Mortal
If Che Guevara's rise to power and international prominence was meteoric, so was his fall. He disappeared from public view in early 1965 to return to active participation in armed revolutionary movements. In April 1967, after a prolonged firefight with Bolivian troops, he was captured and summarily executed. His body was displayed and photographed on a slab, his hands amputated for fingerprint analysis, and his remains shoveled into a grave next to a military airfield.
Alberto Korda was Fidel Castro's personal photographer for ten years, and then had a long and fruitful career in Cuba and internationally. He died of a heart attack in Paris in 2001. He is buried in Havana's Colón Cemetery, the site of his most enduring photograph, "Guerrillero Heroico."
Ω