A huge conservation win came when reporters witnessed a Yellowstone poacher's arrest. A lucky break? The record shows that luck had little to do with it.
◊
One of the greatest victories in the history of American conservation came in 1894 after two reporters from the country's leading outdoor magazine witnessed the arrest of a notorious buffalo hunter in Yellowstone Park. Considered a fantastic stroke of luck at the time, a close look at Yellowstone's Army superintendent and the historical record indicates that luck had very little to do with it.
On March 12, 1894, U.S. Army scout Felix Burgess and an enlisted man named Troike were patrolling Yellowstone Park's remote Pelican Valley when they discovered a heap of buffalo carcasses. Hearing distant gunfire, they soon sighted a man named Ed Howell skinning five more of the animals. So preoccupied was Howell in his work that Burgess crossed some four hundred yards of open country on long skis before arresting him at gunpoint.
By nightfall, Burgess and Troike had their prisoner at the park's Lake Hotel, where a phone line to headquarters at Mammoth Hot Springs, 70 miles away, brought Captain George Anderson, Yellowstone's Army superintendent, word of the arrest. He ordered a detail to bring in Howell and collect the remains of what turned out to be 12 of the park's nearly extinct bison.
As it happened, two reporters were with Anderson's troops: F. Jay Haynes, Yellowstone's official photographer, who made pictures with a heavy, tripod-supported view camera; and Emerson Hough, a regular contributor to the outdoor and hunting weekly, Forest and Stream magazine.
Hough telegraphed word of the arrest to his New York editor, George Bird Grinnell, who rushed a brief notice into that week's issue. A detailed account, with Haynes' grim photographs, appeared seven days later. It caused a sensation.
After the Interior Department's park budget was cut almost completely in 1885, management of Yellowstone was transferred to the War Department, which still manned forts across the West.
Beginning with its 1872 founding, Yellowstone had strict rules against hunting and vandalism, but, as stateless federal property, had no legal penalties for breaking them. Tourists defaced fragile natural features, and illegal hunting – for beaver pelts, elk meat, and especially buffalo heads – remained highly profitable. (A large buffalo trophy fetched as much as $300 – over $9,000 today – from local taxidermists, who then sold them for much more.)
Check out America From Above: The West on MagellanTV.
With No Law Against Hunting, Park Poachers Wreak Havoc
To be punished even mildly – given a fine and their goods confiscated – poachers had to be caught literally red-handed, a nearly impossible task in untracked wilderness. Offenders would sled supplies into the park at night, shoot the snowbound animals, then hide their frozen trophies in deep stands of trees, to pack out at their leisure.
A fierce Yellowstone advocate, Grinnell's editorials written after Howell's arrest and release urged every reader to "write to his senator and representative in Congress" demanding a law to answer this latest outrage.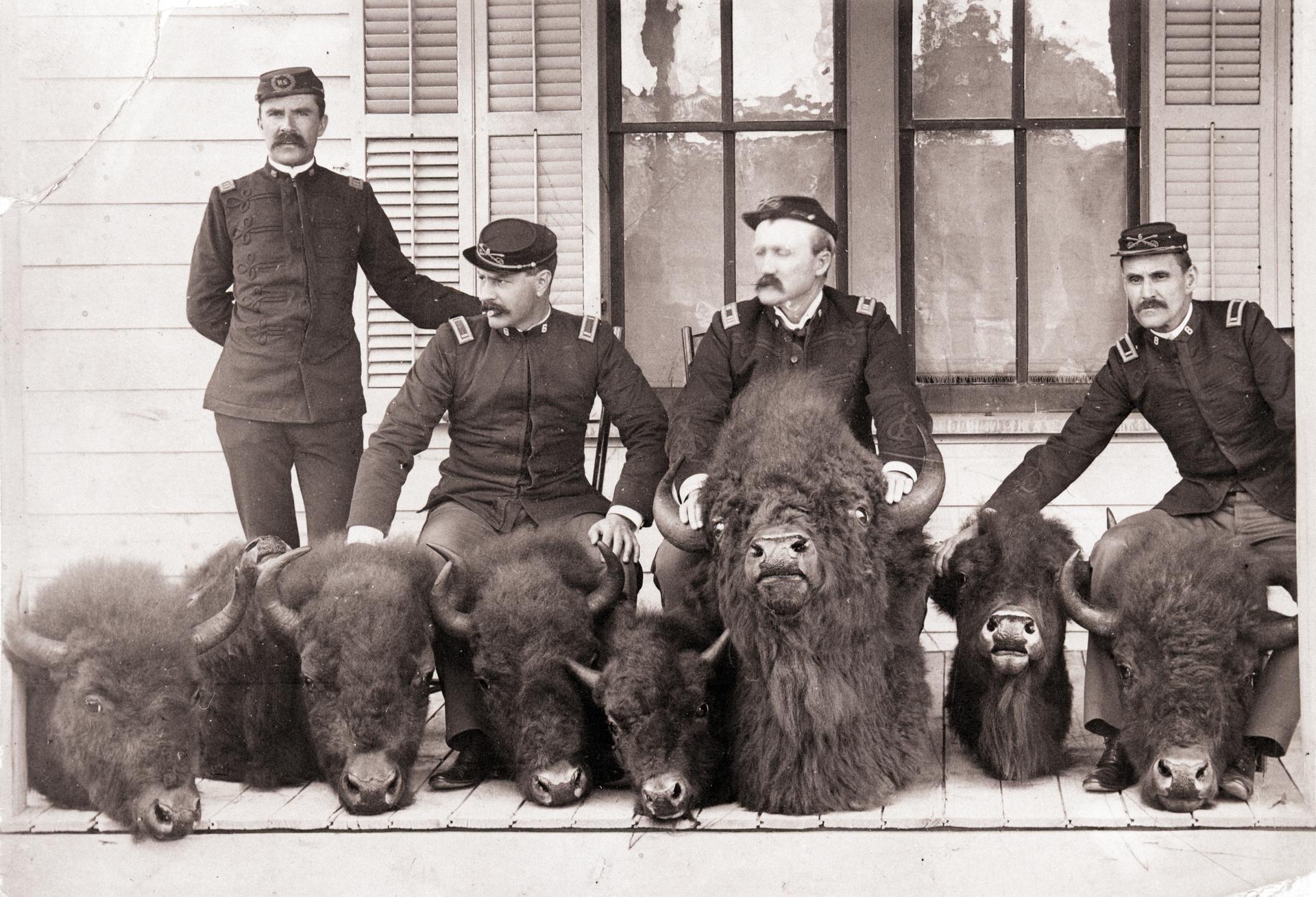 Capt. George Scott, seated center, and fellow officers pose with the gruesome remains of bison killed by poacher Ed Howell, March 1894. (Credit Yellowstone Park National Archive)
It worked. Only six weeks after the arrest, the Lacey Act extending Wyoming territorial law into Yellowstone passed Congress, propelled by popular demand and energetic lobbying by Grinnell's close friend, Public Service Commissioner Theodore Roosevelt. It was a monumental victory for conservationists.
Violators of park rules are still tried and sentenced (most often banned from Yellowstone for a period of years) at the federal court at park headquarters in Mammoth, Wyoming.
Contemporary accounts, and every history since, describe the circumstances surrounding Howell's arrest as an amazing stroke of luck. But a look at Captain Anderson's connections to Grinnell, Roosevelt, and their Boone and Crockett Club, the pro-conservation hunting fraternity the two friends founded four years before, makes it hard to credit that a pair of seasoned professionsals got the biggest story of their lives in the middle of nowhere, in late winter, by dumb luck.
In fact, a close look at old newspaper files, and correspondence in the federal Yellowstone archive, indicates that one of greatest victories in the history of American conservation was instead engineered by Captain Anderson, with the help of crusading journalists. Then, to seal their victory, they hid their handiwork.
Captain George Anderson Takes Command at Fort Yellowstone
At 42, George Anderson was the park's third Army commander. At 6'2", with a barrel chest, he cut a splendid figure in tailored uniforms. Fifth in his 1871 West Point class, he served in the Red River Indian War in Texas, was made chief military engineer for the Arizona Territory, and then was assigned to teach physics back at West Point. From there he went to Paris for two years to observe the French army and evaluate side arms for government purchase.
By the mid-1880s, Anderson, in every account an immensely likeable, highly polished officer, belonged to New York's exclusive University Club. There he got to know a member his own age, another avid hunter – Forest and Stream editor George Grinnell, who used University Club rooms for the twice-yearly meetings of the Boone and Crockett Club.
Founded by Grinnell and Roosevelt in 1887, and dedicated to ethical hunting and resource conservation, the club's very select membership was made up of around 50 millionaires, legislators, and military men. Captain Anderson was named an associate member upon gaining the Yellowstone command.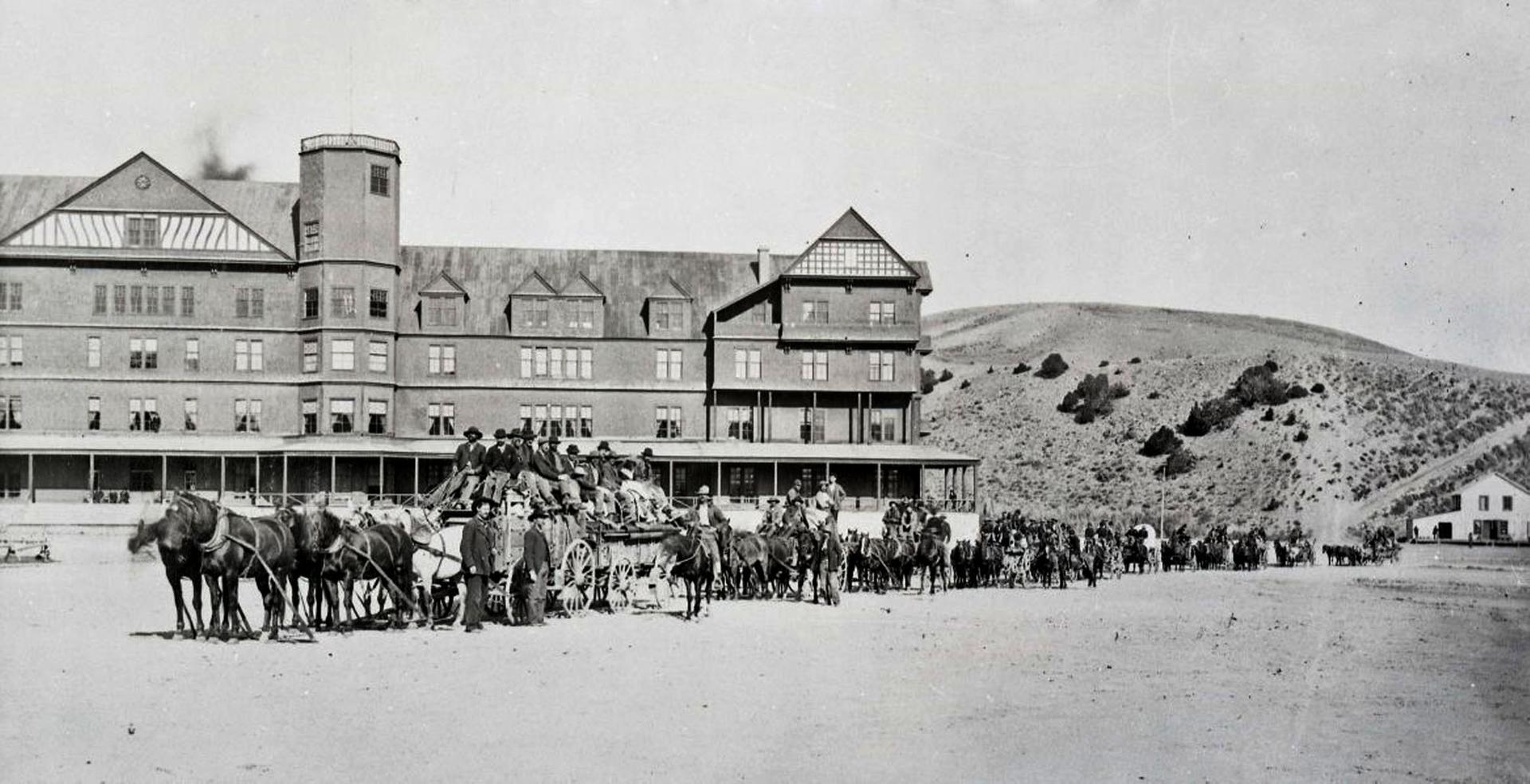 A road building crew of Army engineers in front of the Mammoth Hot Springs Hotel ca. 1890
(Credit: Yellowstone National Park Archives)
Anderson had some 100 troops meant to impose order on the vast park. Though overwhelmed during tourist season, the soldiers made regular winter patrols, mostly on long cross-country skis. Captain Anderson meanwhile invested in community relations. He sent good reports of the park's hotels and touring services to the Interior Department, and he was a popular regular at the Mammoth Hot Springs Hotel bar. By the fall of 1893, he had word that Howell, a known poacher from Cooke City, Montana, had killed and skinned 12 buffalo found the previous March, and was going back for more.
Anderson punished buffalo hunters by jailing them until receiving orders from Washington to set them free, which took about a month. He then had them marched to whatever park entrance was furthest from their homes, and warned them never to return.
Two bison poachers had been arrested in the first two years of Anderson's command, to no effect. But to think that one of the Army's brightest officers would not have a strategic and tactical plan ready to protect the park's wildlife greatly underestimates him. And to believe the plan did not somehow include Grinnell overlooks Anderson's Boone and Crockett ideals. The two allies certainly knew that to move public opinion, Howell's impending arrest, and the resulting slap-on-the-wrist, needed to provoke widespread outrage.
From records in Yellowstone's archive, it's clear that Anderson wrote Grinnell twice that autumn. Although Grinnell's replies are preserved, Anderson's letters are, oddly, missing. Shortly after hearing from the Park's commandant, Grinnell asked F. J. Haynes to meet Hough and photograph a tour of the park – a tour that, as it happened, coincided with Howell's expected hunting expedition.
The Official Story Omits Captain Anderson's Secret Plan
According to Yellowstone's official history, Hough and Haynes were working on a feature story about winter in the park. Touring with a veteran park guide, the two happened to meet Burgess and Troike with their prisoner at a remote station. Hough wrote an account of the capture on the spot, sending it back with the soldiers to telegraph to Grinnell.
But the official account is certainly wrong. In his fullest report of the arrest, printed in Forest and Stream in late April 1894, Hough states he was with Anderson at headquarters when the call about Howell's arrest came in: "And as I was the guest of Capt. Anderson." he told readers, "I learned the news at once, and at once put it on the wire for Forest and Stream."
Both Anderson's written report to the Secretary of the Interior, and a March 24 story in the Livingston, Montana, Enterprise state that Haynes, the photographer, was in the field with Capt. George Scott's patrol, the unit including Burgess and Troike, which had been specifically given the mission of apprehending Howell. Even though Hough, a well-known journalist, was the reporter who first broke the story, he is conspicuously absent from both the Enterprise account and Anderson's official report.
So it is reasonable to think the plan was for Haynes to go with Capt. Scott's patrol to photograph any evidence, while Hough remained at headquarters until Howell was in custody. After telegraphing Grinnell, he would then set out with the detail sent for Howell, which is what happened, and get the full story.
"When Capt. Anderson came in after hearing the news of this capture," Hough wrote, "he was positively jubilant. He couldn't sit still. He was so glad." Maybe Anderson's glee was less about Howell's capture per se, than that his strategy to alert the nation to Howell's arrest worked perfectly.
The park had powerful enemies, especially railroad companies intent on running tourist trains across its spectacular scenery. If the Forest and Stream reporters were seen as being at the park expressly for Howell's arrest, Anderson could have been accused of entrapment; and that he, and Grinnell, let the bison die for political reasons. The vivid reporting of the crime and capture had to be seen as a wild stroke of good luck.
In service of this, Hough's final and fullest account of the incident freely uses the words "fortunate," "fortune," and "lucky." Of Howell's capture, he wrote, "had not Forest and Stream been born under a lucky as well as an energetic star, it could not have enjoyed the journalistic good fortune of having a man right on the spot – and a most remote and improbable spot, too – to obtain exclusively for its services the most important piece of news."
This is another way of saying that the magazine's star ally, the energetic Captain George Anderson, got Hough to Yellowstone in the first place, but emphatically not how everything that followed was one big, happy coincidence.
Grinnell took a victory lap in an unsigned editorial in the same issue as Hough's article, practically giving the game away. Hough and Haynes's expedition "was an enterprise with a purpose (emphasis added). This purpose was actual, definite and important, and its occasion pressing. … The course of events has been what we foresaw. The results of the expedition have been secured at a moment when they are certain to be of the highest possible utility."
More Was Required to Save Yellowstone's Bison
Though the Lacey Act effectively ended other illegal hunting, the force of law did not stop bison poaching. By 1900, the Yellowstone herd, through human and natural causes, was down to twenty-five animals, protected in a corral in sight of the fort that Anderson ordered constructed. They were soon joined by wild bison from small herds found in Texas and Montana. Their descendants now total around four thousand.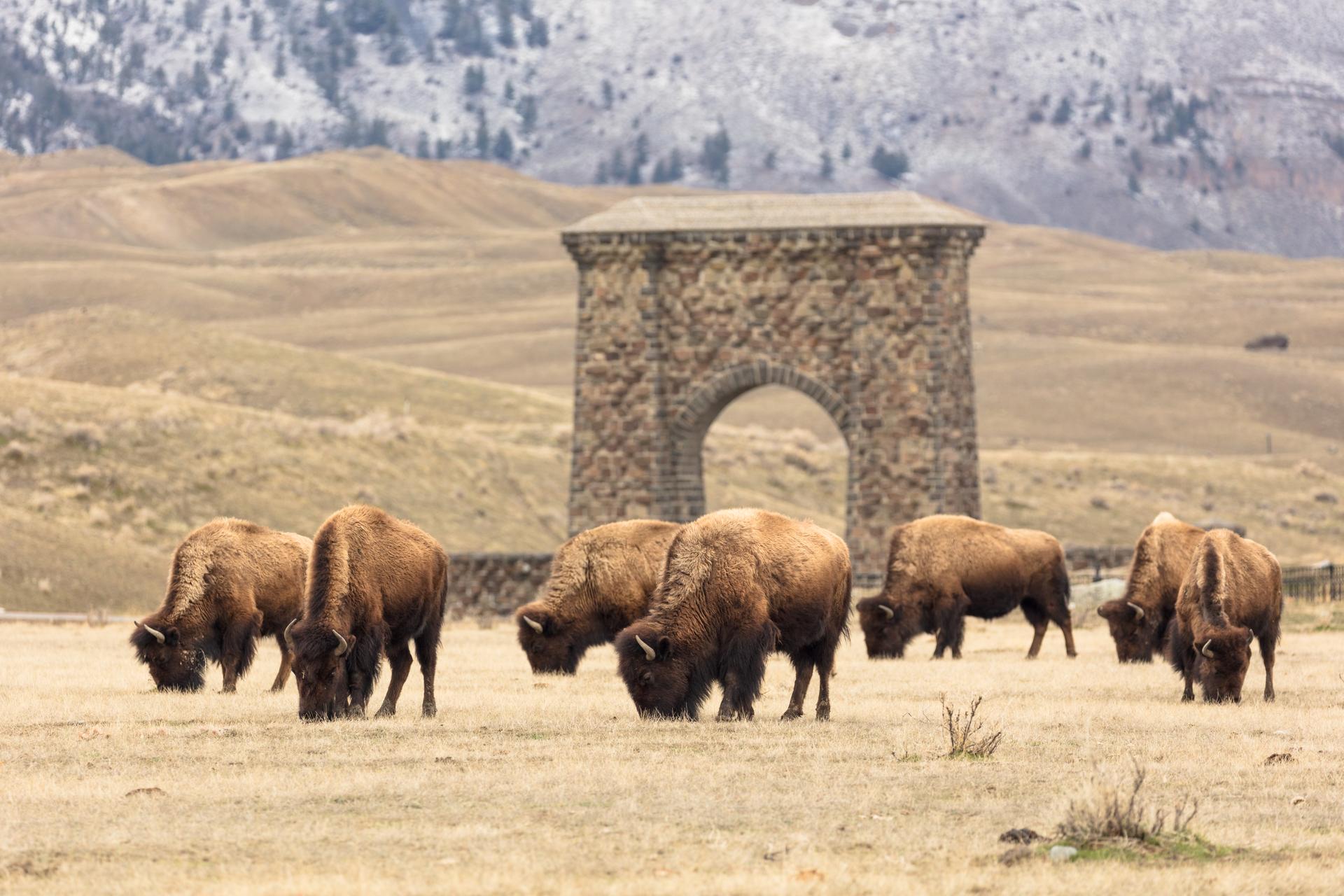 Bison grazing in front of Yellowstone Park's historic Roosevelt Arch entrance in 2018.
(Credit: National Park Service/Jacob W. Frank)
Captain Anderson was reassigned in June 1897, and commanded troops in the Spanish American War. But the rigorous procedures and organizational infrastructure he instituted became the model for the nascent U.S. Park Service when Fort Yellowstone was finally decommissioned on the eve of World War I. The distinctive outfits and hats worn by park rangers ever since are just a modified version of the former U.S. Cavalry uniform.
Anderson retired as a Brigadier General in 1912 and was living at the University Club when, almost exactly twenty-one years after Howell's arrest, he died suddenly of a heart attack at age 65 while reading a newspaper in the club's lobby. He was buried at West Point.
Grinnell wrote a fond memorial for Forest and Stream: "Besides the work that he did in administering the Park … Gen. Anderson kept the friends of the Park in the East advised of the dangers that threatened it, and thus enabled them to secure in Washington sympathy that was helpful to the reservation."
It's tempting to read in Grinnell's farewell, one last cryptic brag about how with a lot of planning, and a little luck, his old friend, an officer and gentleman, brought law at last to Yellowstone Park.
Ω

Contributing writer Joe Gioia edited and wrote for several long-gone photography magazines. He is the author of The Guitar and the New World, a history of American roots music, and lives in Livingston, Montana.
Title Image: A Metis buffalo hunt on the prairie of the Dakota territory, painted by P. Kane (1846).