Born in Hawai'i and embraced internationally, the small, four-string ukulele is both a vessel of traditional Hawaiian culture and a roving ambassador of musical fun and joy, played easily by beginners and embraced by virtuoso musicians. Promoted by Hawai'i's last king in the late 19th century, the uke was an integral part of an American pop music fad for nearly 30 years before fading from the scene. But it's hard keeping the "hopping flea" down, and a widespread revival of the ukulele this century shows no signs of disappearing.
◊
By the end of his too-short life, George Harrison wanted to be known as more than just one of the Beatles. Producing movies – including The Long Good Friday and Monty Python's Life of Brian, among twenty-four others – and gardening on his enormous estate, along with charitable work and spiritual studies, filled out a busy life.
In the late 1990s, Harrison mainly put down the guitar to pick up an instrument he would play, and advocate as a means of spreading music and joy, for the rest of his life – the apparently simple, and simply beguiling Hawaiian ukulele.
"Everyone should have and play a 'UKE,'" he wrote in 1999, "it's so simple to carry with you and it is one instrument you can't play and not laugh! It's so sweet and also very old – some are made of wood – some are made of armadillos. I love them – the more the merrier – everyone I know who is into the ukulele is 'crackers' so get yourself a few and enjoy yourselves."
The shoebox-sized, four-stringed ukulele is the simplest, most portable of the hourglass-shaped instruments people play with both hands close to the chest. It first appeared in Hawai'i in the 1880s, developed from stringed instruments brought to the islands by a company of Portuguese farm workers from Madeira and the Azores. They came at the invitation of Hawai'i's King Kalakaua in 1879 to staff the islands' expanding sugar plantations. Soon, a group of them were entertaining Hawaiians with impromptu evening concerts in Honolulu's public square.
No one then could have guessed that in 20 years Hawaiian music and the ukulele would ignite a decades-long fad that would ring in deep changes to American music and popular culture.
The History of Ukulele's Portugese Ancestry
A striking alchemy occurs when a highly musical culture discovers a new vehicle for creative expression – an explosion of new music and ways to play songs. It happened in medieval Europe with the appearance of the Arabs' oud, a stringed instrument with a long neck and domed back that became the lute; in North America when native Cherokee learned how to fiddle; in Mexico when local musicians got their hands on German accordions; and it happened in Hawai'i.
This magic of musical transmission also includes those British trans-Atlantic merchant seamen who purchased American jazz, R&B, and blues records in New York City to take back home to Liverpool. The recordings soon enthralled a generation of young Britons – some of whom, like George Harrison, changed the world.
One Portuguese instrument in particular, the machete – small, four-stringed, guitar-shaped, and named after the main tool of sugarcane harvesters – captured popular attention and was quickly adapted by local Hawaiian craftspeople. The name given the new instrument, ukulele, translates as "hopping flea," and signals the sense of fun people had watching and hearing the tiny, sprightly instrument.
Honolulu instrument makers fashioned ukuleles out of native Koa wood, adding gut strings – easier on the fingers than the machete's metal strings – and tuning them to a simple ascending scale (sung as "my dog has fleas") that eases the forming and strumming of chords so that anyone could become a basic performer after a short lesson.
The Favorite Instrument of a Musical King
The farsighted King Kalakaua worked to preserve traditional Hawaiian culture while integrating his kingdom into the larger contemporary world. He promoted Hawaiian music as a means of doing both. The king, known to history as the "Merrie Monarch," reinstated public hula performances that had been banned by missionaries decades earlier, and loved entertaining friends by singing and playing his ukulele.
The royal family was clearly musical. Kalakaua's sister, who became Queen Lili'uokalani upon his death in 1891, was a prolific tunesmith, composing dozens of songs, including Hawai'i's beloved anthem, "Aloha Oe." Political rivals aligned with U.S. commercial interests soon deposed Lili'uokalani, declaring a republic in early 1893. Later that same year, Hawaiian music made an appearance on the American scene, featured in the new republic's pavilion at the Columbian Exposition in Chicago. In it, singers and dancers accompanied a vivid theatrical reenactment of an eruption of Mount Kilauea.
That exhibition was so well received that a "Hawaiian Village" concession, starring "the Royal Hawaiian band" was one of the midway entertainments at the 1901 Buffalo Pan-American Exposition. (It was there that President William McKinley, who signed the act annexing Hawai'i to the United States in 1897, was shot and killed). The Royal band was a sensation of the fair, prompting a fad for Hawaiian music in the United States that lasted over 30 years and changed American pop music forever.
Alongside their flutes, violins, and ukuleles, the Hawaiians in Buffalo introduced the slack-key guitar. This totally new style of playing produced sweeping tones when a metal bar was slid across metal guitar strings tuned to sound a single chord. Even John Philip Sousa, America's most famous musician, came to hear the Hawaiians's phenomenal new music.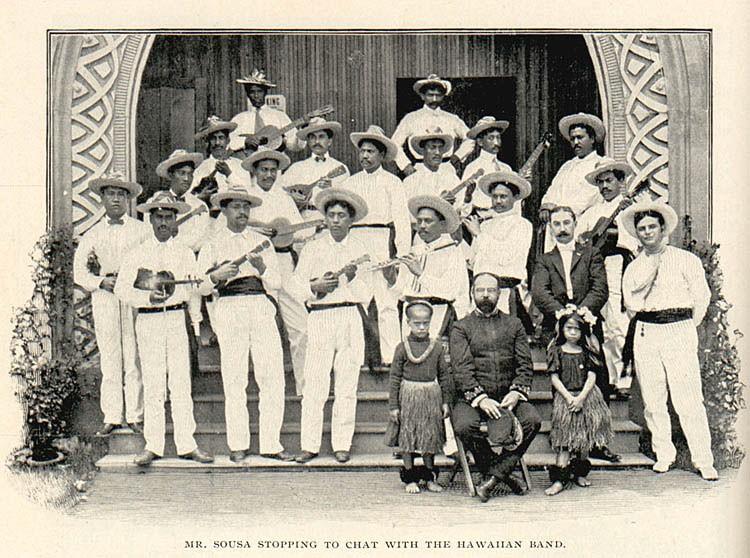 John Philip Sousa and Hawaiian musicians (Image credit: wikicommons)

Played horizontally on the guitarist's lap, the slack key guitar was redolent of the islands' soft breezes and washing waves. It reflected the smooth vocalization of Hawaiian songs like "Aloha Oe," and was quickly absorbed into America's musical bloodstream. Blues musicians adapted it to the "bottleneck" slide guitar style of playing, and its musical cousins the acoustic Dobro and electric pedal steel guitar became central to 20th century country music.
The uke's long presence in American and World music has been fortified by gifted innovators like Jesse Kaleihia, who made it a swinging solo instrument, Israel Kamakawiwo'oke, whose sweet, reggae-infused cover of "Over the Rainbow" was a globe-spanning hit, and Jake Shimabukuro, who plays with blazing, rock-star abandon.
Hawaiian Music Hits It Big Stateside
After ending their Buffalo engagement, the Hawaiian band toured vaudeville houses for the next several years. At the 1915 San Francisco exposition, Hawaiian music was hailed as a fully-formed pop music phenomenon. The ukulele became a talisman for a romantic tropical fantasy – vivid and warm, wafting from the United States's westernmost possession.
In the years following the First World War, a puritanical American culture began relaxing certain taboos around the display of women's bodies. Skirts and bathing suits became more revealing, more "Hawaiian" in their simple lines and easy exhibitions of bust and leg. California, as it does, led the way. By 1929, surfing, brought there by Hawaiians, was well-established on the left coast. And the ukulele, featured on records, radio, and in the movies, promoted and symbolized a cultural sea change. No college dorm room was complete without one.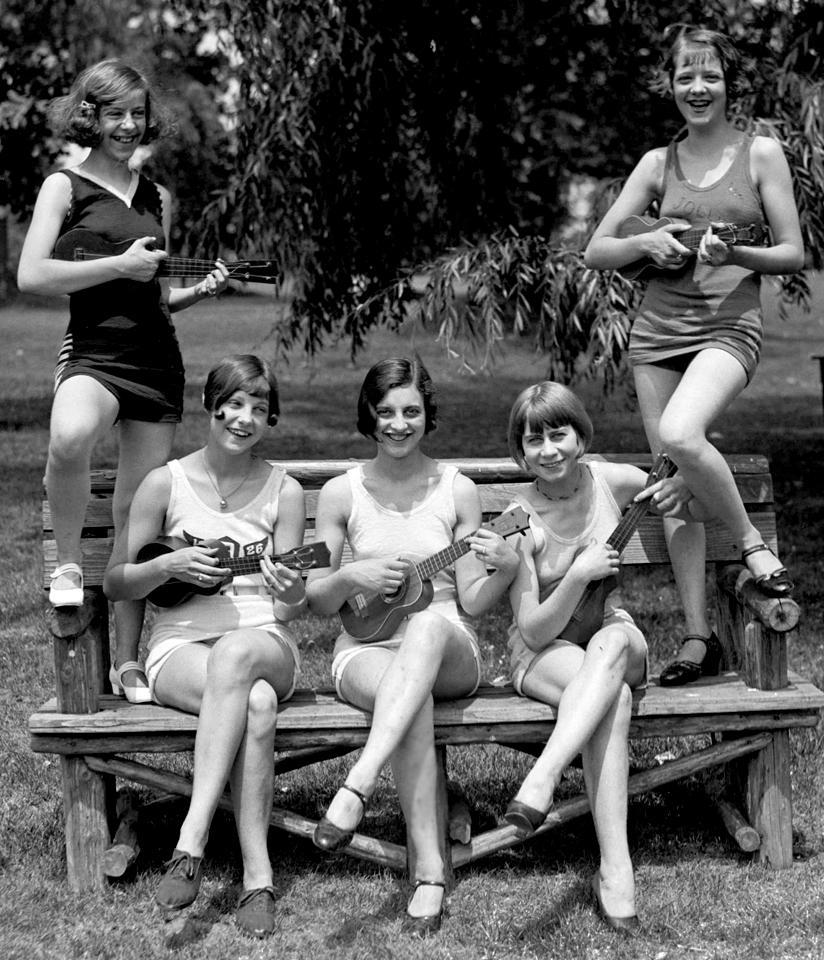 (Image credit: Library of Congress)
A mass-market quickly formed around the fad instrument, with the Harmony and Washburn brands producing soprano, tenor, and bass ukes from a range of different woods in their Chicago factories. The instruments were then sold by two of the largest retailers in America, Sears and Montgomery Ward, by the millions. In 1916, the C.F. Martin guitar company began making premium ukuleles, a product line carried forward to this day. You can even buy the exact replica of the ukulele flown over the North Pole by a member of Commander Richard Byrd's Arctic expedition in 1926 – then signed afterward by such notables as Byrd, Calvin Coolidge, Amelia Ehrhardt, and Thomas Edison.
"Like the Pipes of Pan, the Ukulele has drawn thousands of men, women, boys, and girls into the land of musical joy and happiness." – Gibson company catalog
The Gibson guitar company began making ukuleles in 1927, both standard models and the Banjolele, which was exactly what its name indicates. In the 1940s, a New York maker of high-end jazz guitars, Mario Maccaferri, subsidized his custom trade by producing a line of plastic "Islander" ukes, selling an estimated 9 million of them over the next couple of decades. But regardless how many of them were sold – and maybe because of their cheap ubiquity – by the 1960s ukuleles were mainly regarded as toys.
Neglected for Decades, The "Hopping Flea" Bounces Back
It probably isn't coincidental that Hawaiian pop music and the ukulele suffered an eclipse after the Second World War. Hawai'i was no longer the carefree tropical American fantasyland, but the site of a national tragedy at Pearl Harbor and the jumping-off point for the cataclysmic battles of the Pacific theater. American society needed over a decade to begin overcoming the rigid social conformity necessary to fight and win the war. The ukulele became a nostalgic instrument, played by middle-aged (now-forgotten) entertainers like Arthur Godfrey and Roy Smeck.
When America's postwar moral loosening finally arrived, it was by way of electric guitars and the music of the nation's overlooked populations – African-Americans and poor Southern whites. The liberation of the country's young people was well and truly launched when George Harrison and the three other Beatles hit the U.S. in 1964. After that, the ukulele appeared to be a relic, a curiosity played most famously after that by the great outsider performer, and eccentric musicologist, Tiny Tim.
So it is only fitting that the "Quiet Beatle" would lead a ukulele revival by promoting its inclusive ease and fun – the sound and symbol of a happier time. George even put down the slide guitar to play his uke in the closing seconds of what can be considered the last Beatles song: "Free As a Bird," stitched together by John Lennon's three surviving bandmates from song demos Lennon left uncompleted when he was murdered in 1981.
A ukulele renaissance is now in full flower, with worldwide clubs, festivals, touring musicians, online lessons, and fan publications. A new generation of Hawaiian virtuosos is redefining its musical possibilities, making it again a vehicle for delightful new sounds.
So, mahalo nui loa, George. Aloha!