Steeped in its storied history, the small island country of Malta is the ultimate travel destination for cinephiles and TV show fans, especially if you're into action-adventure, thrillers, fantasy, legends, and epic narratives.
◊


When it comes to television and movies, not only do I fall in love with my favorite characters, I often become obsessed with the locations as well, wishing I could stand in the same places as the iconic scenes I've come to know and love. I travel specifically to locales just to be where the characters stood.
Movie buffs and binge watchers, take note: Add Malta to your bucket list. If you ever get the chance to visit this striking island paradise, you might just recognize a scene from a beloved film or series around every corner.
For more on Malta, check out The Travel Bug on MagellanTV.
Malta: A Place of Cinematic Possibilities
Maybe it's because I've hung out on many a movie set, worked as a TV extra once, and some of my family members and friends are in show business. Whatever the reason, I am obsessed with the entertainment industry. I have the imdb app on my phone, ever curious to check on cast lists, actors' histories, and set locations – which is how I found out that Malta is a very popular place for filming. Its rich history offers a fusion of old and new that makes movie and television directors salivate.
Production companies hire location managers to scout ideal settings where their stories can best be brought to life. It turns out that the Republic of Malta – an idyllic archipelago nation situated in the Mediterranean Sea between Sicily and Tunisia – is filled to the brim with possibilities. Like a living, breathing museum, Malta is rich with a unique mix of Italian, African, and Middle Eastern traditions and cultures. Almost any street or building will remind you of somewhere else. That's one of the reasons why, over the last 100 years, Malta has captured the imagination of the entertainment industry.
First off, let's just get the classic Humphrey Bogart movie The Maltese Falcon (1941) out of the way. It was never connected to Malta – except for that confounded bird statuette, of course. It was filmed in San Francisco and Burbank, California. But Maltese is what the citizens call themselves, and it's also the name of the distinctive language they speak.
The Maltese language, heavily influenced by Sicilian, is the only Arabic dialect that's written using the Roman alphabet.
Casting Malta's Dramatic Coastline
Yes, Toronto can be made to look like Manhattan, and Vancouver can be taken for San Francisco. But what if your story isn't a typical rom-com or urban thriller? If you want larger-than-life action and adventure, put Malta at the top of your list.
Hundreds of films and television shows have been shot in Malta, starting with the very first one in 1925, a British Instructional Films production called The Sons of the Sea. This silent movie was a patriotic piece featuring fictional sea battle scenes using actual Royal Navy vessels.
Two years later, the same company used Malta again, this time to represent the Falkland Islands in another story about the Royal Navy. The first "talkie" filmed in Malta came in 1931, when Tell England told the tale of soldiers who fought in the Battle of Gallipoli (Turkey) in World War I. Even in these early days of the cinema, Malta's versatility was evident.
You might not have heard of those initial forays into Maltese filmmaking, but how about the 1977 James Bond flick, The Spy Who Loved Me, starring Roger Moore and Barbara Bach? That movie was filmed in several countries, including Egypt, Italy, and Canada, but the final scene, where the escape pod drifts into a British warship? That was Malta.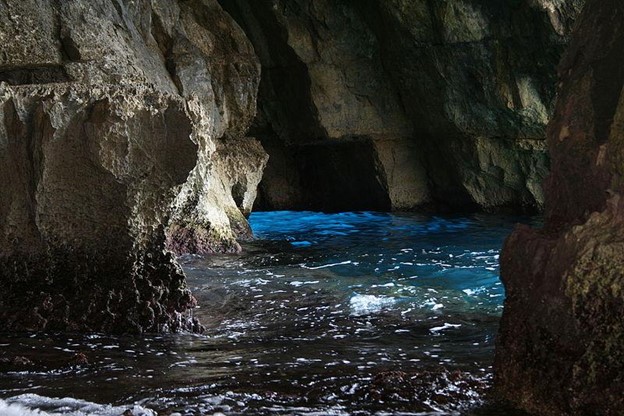 Blue Grotto (Source: A. Ocram via Wikimedia Commons)
Malta's coastlines are spectacularly varied – with pristine beaches as well as harrowing cliffs. There are also labyrinthine cave formations. In fact, Malta boasts over 100 dive sites, with crystal-clear visibility.
For millennia, Malta has served as a stage for the dramatic. In the 1st century, the Apostle Paul is known to have crash-landed on Malta. His ship was blown off course on its way to Rome by a great storm and smashed to pieces somewhere on Malta's rocky shores. (The biblical account is told in Acts 27–28. Everyone on board survived, and Paul stayed for three months, reportedly healing many islanders.)
Paul is now revered as Malta's patron saint. Every February 10th, the Feast of Saint Paul's Shipwreck is celebrated across the country. In the capital city of Valletta, the observance starts early in the morning with a mass at the 16th century Catholic Church of St. Paul's Shipwreck. Services are held throughout the day until the benediction at night – while bands play outside, and revelers party till after sundown. Late in the afternoon, a massive crowd assembles around a wooden statue of Paul, which is paraded through the decorated streets, accompanied by fireworks and confetti.
Saint Paul's Catacombs were included in the filming of Iron Warrior (1987) and the British thriller Eyewitness (1970). Saint Paul's Bay was featured in the adventure film Shout at the Devil (1976) and the Simon Templar mystery Vendetta for the Saint (1969).
Paul's wasn't the only ship to have washed up here. Over the centuries, other ships have sunk in these treacherous waters. During WWI and WWII, Malta was often bombed, with a significant number of ships sent to the bottom. Ten of these shipwrecks have been designated historical sites by the Underwater Cultural Heritage Unit. So if you're game, and willing to hire a diving specialist to guide you, you should take the rare opportunity to explore sunken treasures.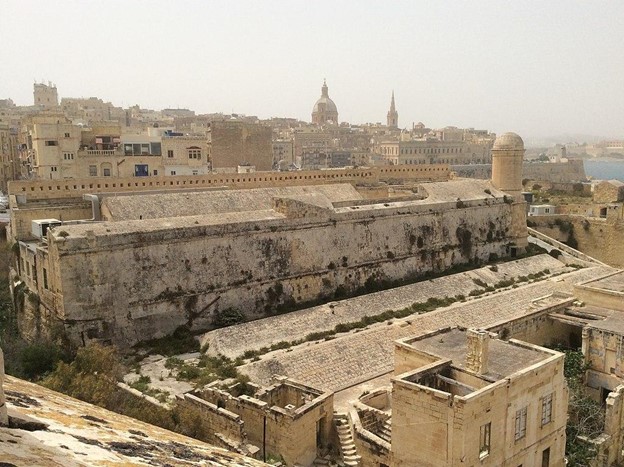 Fort Saint Elmo (Source: continentaleurope via Wikimedia Commons)
Malta's Historic Cities as Hollywood's Fortresses
The city of Valletta was established in the 16th century. The imposing Fort Saint Elmo, built to fortify the city, has been used in many action films including Clash of the Titans (1981) and Cutthroat Island (1995). In World War Z (2013) and Murder on the Orient Express (2017), the fort was depicted as being in Jerusalem. It also served as a Turkish jail in Midnight Express (1978).
With numerous other forts – Fort Ricasoli in Kalkara and Fort Delimara in Marsaxlokk, among others – Malta has proved ideal for such epics as Troy (2004), Gladiator (2000), and Conan the Barbarian (2011). Take the short hop to Manoel Island, and you can visit Fort Manoel, which was the Sept of Baelor in the TV series Game of Thrones. It's also where the Spanish Inquisition trial in Assassin's Creed (2016) took place.
Tragically, horrifying incidents of torture actually are a part of Malta's past. You can view gruesome tableaux representing this country's grisly history at the Inquisitor's Palace in Vittoriosa, where the Maltese Inquisition's brutal acts of torture and execution continued from 1574 to 1798.
Speaking of violence, if you're a Game of Thrones fan, you'll be thrilled to know that many iconic scenes in the first season were shot in Malta (2011). (The remaining seasons were filmed in Croatia and elsewhere.) Malta's ancient-looking fortresses and buildings served as settings for the Free City of Pentos, and lots more. In the streets of Mdina, you'll be walking around King's Landing. Mdina's City Gate is where Lady Catelyn and Ser Rodrik Cassel arrived at King's Landing in episode three. Valletta's 17th century San Anton Palace and Gardens (where Malta's President lives today) were used as the Red Keep, and Fort St. Angelo housed the Red Keep dungeons. The President's summer home, Verdala Palace, served as Illyrio Mopatis' mansion.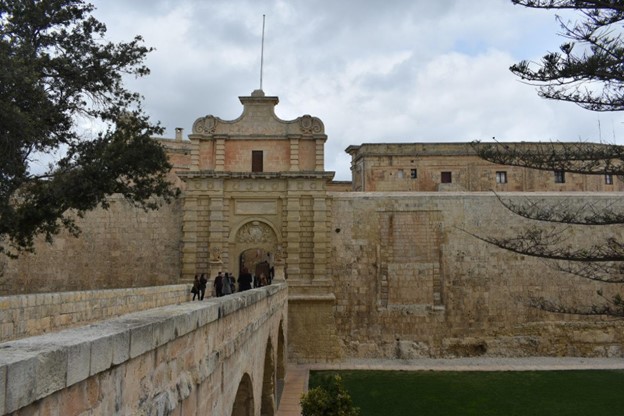 Mdina City Gate (Source: continentaleurope via Wikimedia Commons)
Marvelous Malleable Malta
It's not much of a stretch to believe that it's still the 16th century when walking many of the streets of Valletta, which is why director Justin Kurzel chose the city for the filming of Assassin's Creed. With creative set dressing, Valletta can be made to look like almost anywhere. Many films have integrated it into their shooting schedules, including Jurassic World: Dominion (2022) and The Count of Monte Cristo (2002).
In Munich (2005), director Stephen Spielberg used Valletta's Republic Square for a café scene set in Rome. He made us believe a Valletta hotel was in Athens. A Tel Aviv promenade was actually shot on Valletta's picturesque Sliema Waterfront. And the Maltese town of Rabat doubled as another Rome location.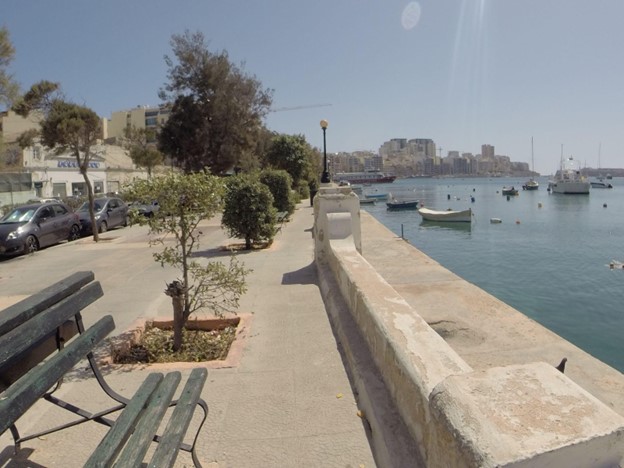 Valletta's Sliema Waterfront (Source: panoramio via Wikimedia Commons)
In the 2017 remake of Papillon, Malta, ever adaptable, played the part of Devil's Island, which is really in French Guiana.
If you've watched Sense8 (2015–2018), the inventive sci-fi series from the Wachowskis filmed in 11 countries, be sure to visit Malta's Water Tanks in Kalkara, where the first episode's opening scene took place. In fact, you may notice that this location has been utilized in lots of other productions, such as Kon-Tiki (2012), White Squall (1996), and Raise the Titanic (1980).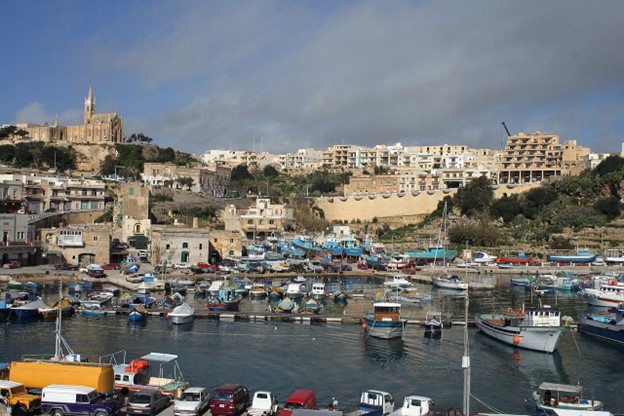 Gozo Harbor (Source: Myriam Thyes, Public Domain via Wikimedia Commons)
A Fake French Riviera
After Brad Pitt did World War Z (filmed mostly in Valletta in 2013), he returned soon after to shoot By the Sea (2015), in which he co-starred with Angelina Jolie (who also directed). They came to Mgarr ix-Xini, a secluded bay on Malta's island of Gozo – which is a convincing stand-in for the South of France. Although panned by the critics as boring (at the least), this film contains breathtaking locations. If you'd like to try the fresh food at Rew Rew, you'll find yourself at the movie's beach bar overlooking the bay. Or, if you'd prefer to experience the luxurious Michelin-Guide establishment (where the celebrity couple ate an elegant meal), go to Ta' Frenc Restaurant. Its menu shifts according to the catch of the day and the local produce in season.
Strong to the Finish – a Visit to Popeye Village
The elaborate village built for the 1980 Robin Williams vehicle, Popeye, took seven months to construct. Even though the film was a box-office flop, the set wasn't demolished when shooting was finished. Surprisingly, it remains to this day and continues to attract visitors. Now known as Popeye Village or Sweethaven Village, the theme park, about a 40 minutes' drive from Valletta, is a popular destination for families.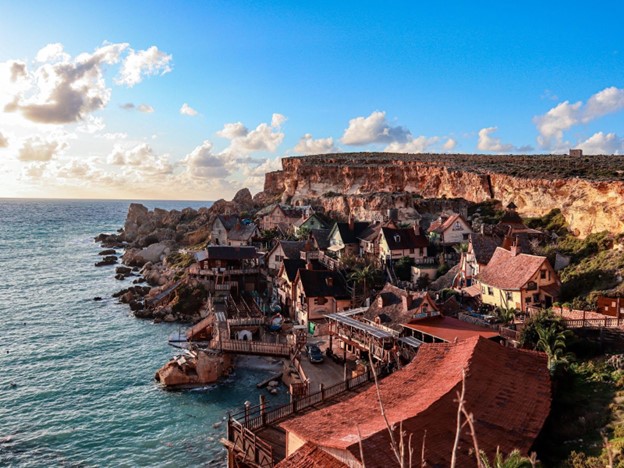 Popeye Village (Source: Sulav Loktam via Pexels)
You can get your picture taken with Popeye and Olive Oyl, play miniature golf, and watch the movie. It's used for private parties, and couples even get married there. Visit in summer, and you can take a cruise around Anchor Bay with access to water slides, water trampolines, and swimming pools. There are also special interactive activities at Easter and Halloween, and at Christmastime a parade and Santa's Toytown.
The Malta Film Commission prides itself on having created a world-class film industry. A convincing promo promises, "Malta will always be home for you. Malta will make it happen for your story."
When you land on the shores of Malta, what will your story be?
Ω
A published author and editor since 1983, Janis Hunt Johnson founded Ask Janis Editorial in 1994. Residing in southern Oregon by way of Chicago and L.A., she loves to travel and learn new things – while writing about culture, the arts, and resilience. She also writes an interfaith spirituality blog on Medium.
Title Image: Valletta, Capital of Malta (Source: Sarolta Balog-Major via Unsplash)