Late in his career, Frank Sinatra revealed, "Real singing is acting. I sang well because I felt the lyrics." But that was no secret. Any serious fan of Sinatra's singing when he was at the height of his powers would agree with that. But Sinatra was even more than a nuanced vocalist. He was also an industry innovator who used his influence to release the first 12-inch, long-playing pop record, produce a string of "concept albums," and even started his own record label dedicated to artists' control of their releases.
◊
In a 1963 interview with Playboy magazine, Frank Sinatra said, "Being an 18-karat manic-depressive and having lived a life of violent emotional contradictions, I have an over-acute capacity for sadness, as well as elation." This simple yet searing self-assessment goes a long way toward explaining the great artistic success he achieved as an interpreter of classic American jazz and pop music. It also explains the remarkable string of popular albums he released between 1954 and 1959 (and arguably beyond) on Capitol Records and, later, on his own label Reprise.
During this period, he alternated in the tone and themes of his album releases, swinging between upbeat pop masterpieces and downbeat "blue" song cycles that explored the dark timbres of his personality. That he was able to inhabit his songs so completely, whether the tone was sunny or midnight-dark, is a testament to his aesthetic sensitivity and to his prowess as a lyrical interpreter.
Sinatra's Career Crisis of the Early '50s
Looking back, we know Frank Sinatra as a towering figure in the cultural history of the 20th century. Not only was he one of the most influential vocalists of his era, he had a powerful impact on the film industry, appearing in more than 50 films and winning an Academy Award. But, as you can guess from his music releases of the 1950s, it wasn't always "ring-a-ding-ding" good times for Ol' Blue Eyes.
In the late 1940s, Frank Sinatra was riding high, cresting a wave he'd initiated with his early successes as a Big Band crooner and matinee idol. He'd made successful records with the Tommy Dorsey Orchestra and, later, on his own. He'd also had featured roles in several films. But as the 1940s ended, his popularity took a dive.
There was a stretch of time in the late 1940s when it appeared that Sinatra's entire career – and his personal life – had run aground. The frenzy that had formerly accompanied "Frankie!" when he was a favorite of the postwar "bobbysoxers" had subsided as Sinatra grew older, and his former fan base turned to younger crooners just as his music began to mature.
To make matters worse, Sinatra's movie career stalled out at roughly the same time. He was dropped by Columbia Records, where his music career had started out, and he lost his film contracts at roughly the same time. To top it off, Sinatra's agent walked away. So he and his career were in free-fall without, as they say, a parachute.
Ava Gardner: Under Sinatra's Skin, from the '50s to Eternity
So much has been written about Sinatra's love life, especially his head-over-heels tumble into the arms of raven-haired beauty Ava Gardner, his divorce from his first wife Nancy, and his tumultuous marriage to Ava. It was a roller-coaster time for Sinatra, and from album to album his fans could easily discern the rather schizoid split moods of the singer.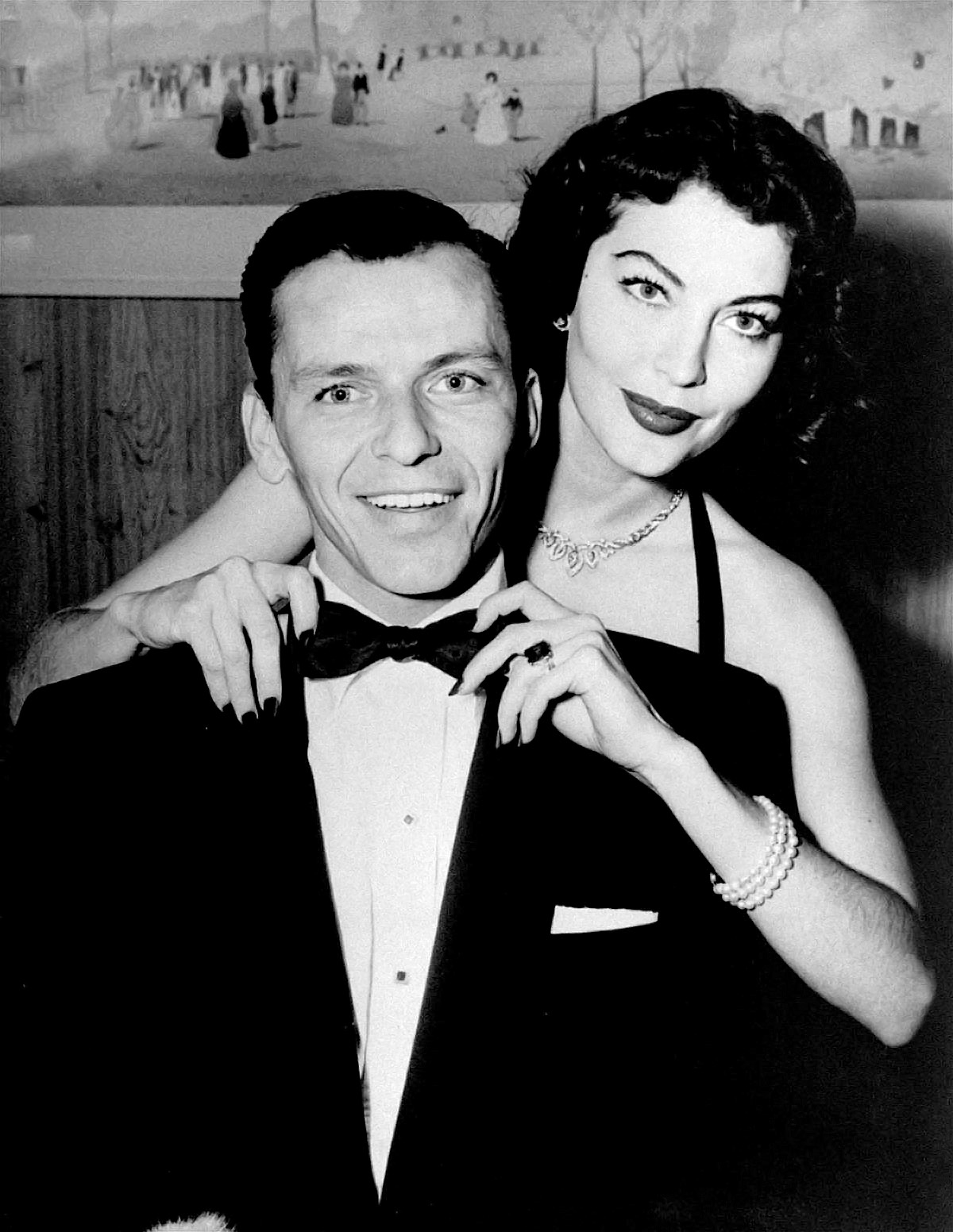 Frank Sinatra and Ava Gardner (Source: Wikimedia Commons)
As he testified in song, he had her under his skin. But Ava was crucial to Frank's career in other ways. In fact, you could say she saved him from the worst fate that can befall a Hollywood star: irrelevance.
By the early 1950s, Sinatra had lost the youthful sheen that had carried him to stardom, and he was looking for a way back into the game. When it became known that James Jones's best-seller wartime novel From Here to Eternity would be made into a film by Columbia Pictures, Sinatra saw an opportunity for redemption in the character of Angelo Maggio – if he could land that part, it would revitalize his career. But how could he get the job?
The answer to his prayer came through Ava Gardner, who managed a subtle but key intervention to the wife of Columbia Studios chief Harry Cohn to get Sinatra a screen test. The next thing Sinatra knew, he had the role of Maggio – and he nailed it, winning an Oscar for Best Supporting Actor of 1953.
For a decade-spanning view of Frank Sinatra's life, loves, and career, one fine resource is the video documentary Frank Sinatra or America's Golden Age, available on MagellanTV.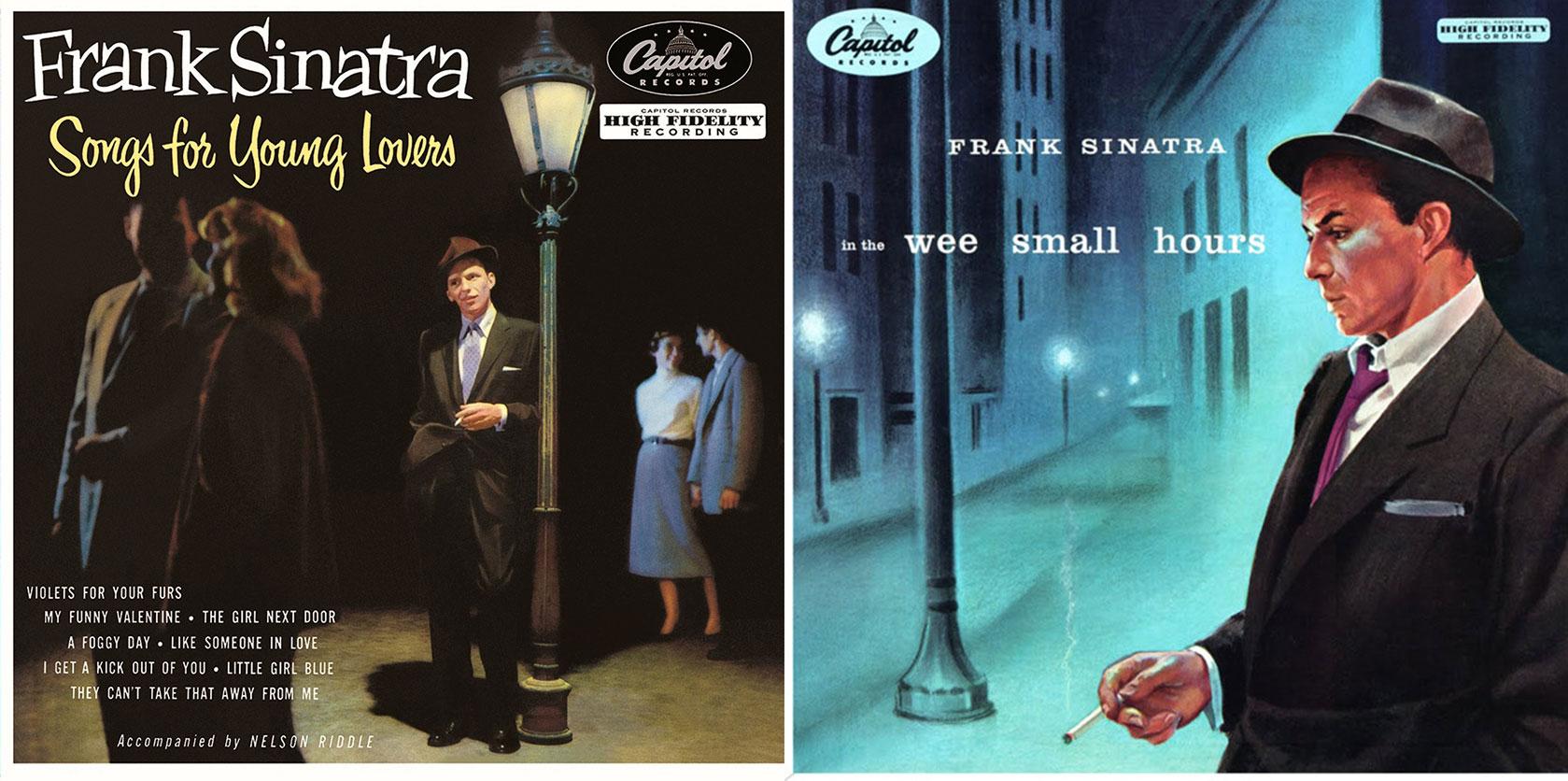 (Image credits: Capitol Records)

Sinatra's Musical Milestones of the Mid and Late '50s
Sinatra's revitalized career gave him a big boost in the music industry. Beginning in 1954 and '55 with the paired releases of Songs for Young Lovers and In the Wee Small Hours, Sinatra masterfully explored the polar opposites of high-energy swinging love songs followed by some of the saddest songs ever committed to vinyl. These were followed by the consecutive releases of Songs for Swingin' Lovers (1956) and Close to You (1957, recorded with a classical string quartet); A Swingin' Affair and Where Are You? (both 1957); and then Come Fly with Me and his self-acknowledged "masterstroke," Frank Sinatra Sings for Only the Lonely (both 1958).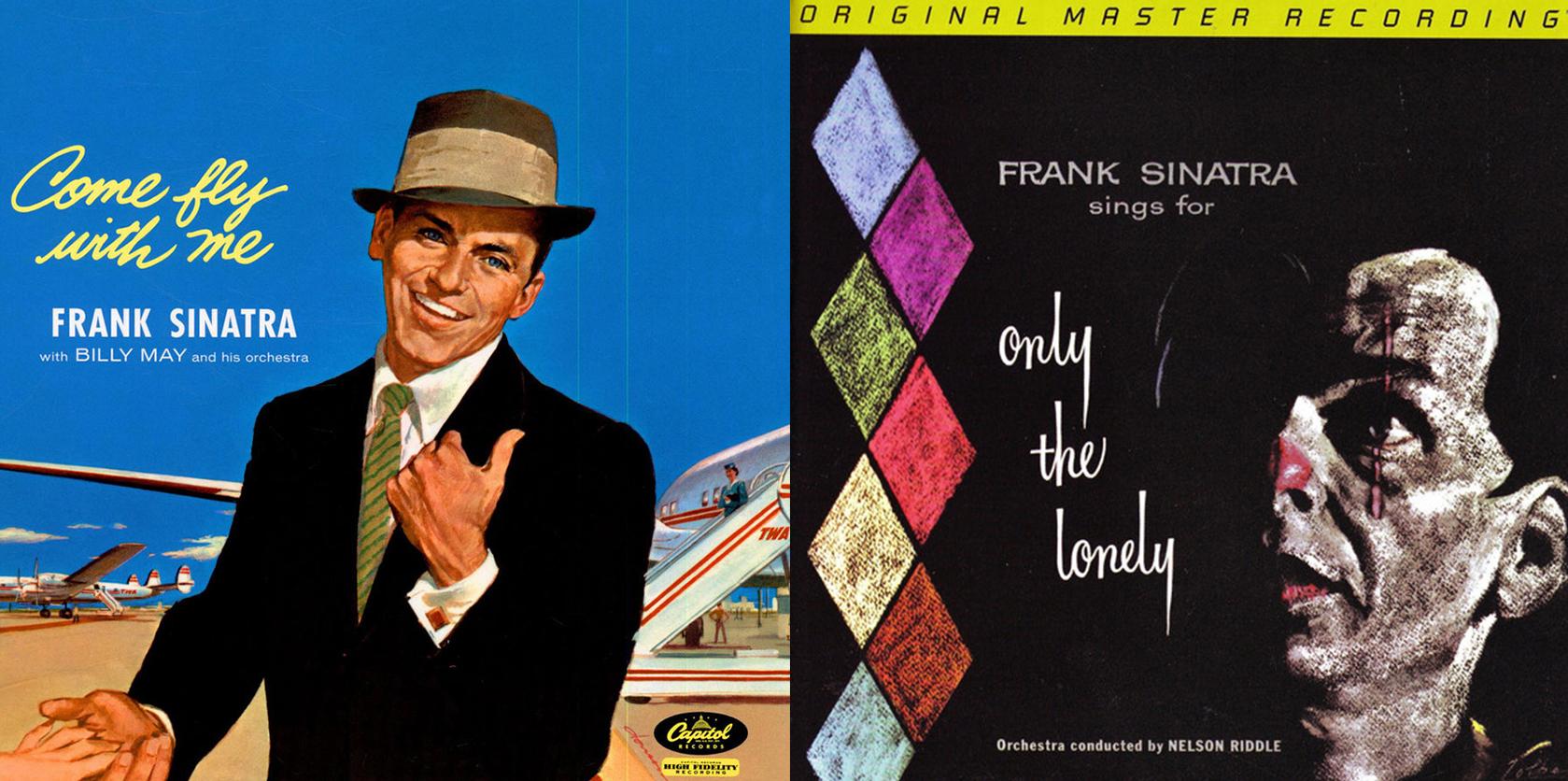 (Image credits: Capitol Records)

More paired LPs followed, in particular the two-fisted punch, in 1959, of Come Dance with Me! and Sinatra's own "dark night of the soul," No One Cares. The music, and the tonal shifts between album releases, are well known to Sinatra fans and music historians. What might be less well-known are Sinatra's behind-the-scenes innovations, which changed how pop music itself was received by the public – and also the public's expectations of the musicians who made it.
At Capitol Records, he used his leverage to set up his own recording label, Reprise Records, which served at first as a home for him and his Rat Pack pals (along with other acquaintances). Reprise became known for giving its artists creative control over their music, a significant issue for a "singer's singer" like Sinatra. In the mid-1960s, the label branched out and signed notable rock and "soft pop" artists as diverse as Jimi Hendrix, Harper's Bizarre, and Jethro Tull.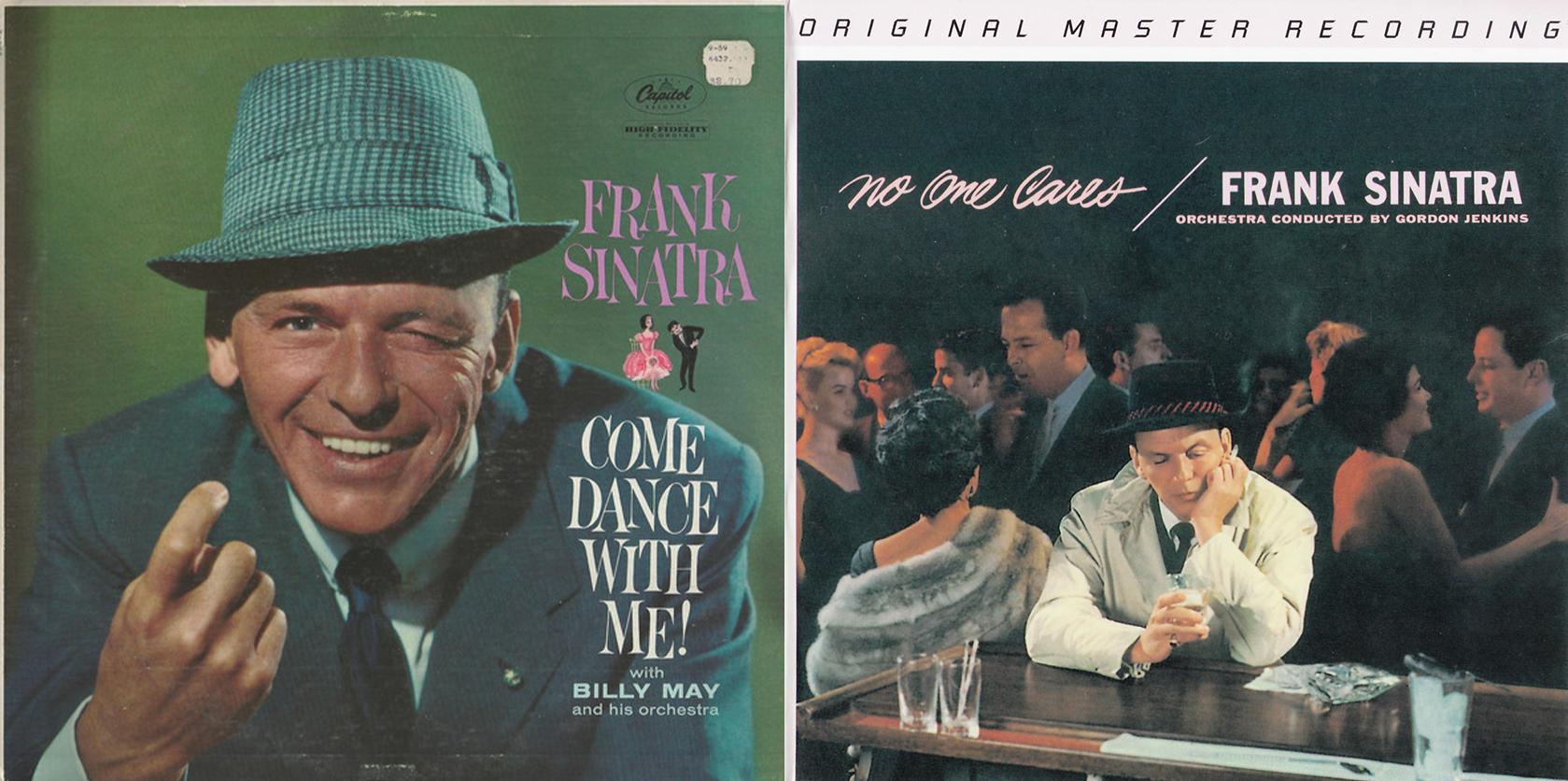 (Image credits: Capitol Records)

Sinatra "Invents" the Pop Record LP
As we have seen, Frank Sinatra worked extraordinarily hard during this brief span in the 1950s to release two, and sometimes three, full-length albums per year. But did you know that, before Sinatra and In the Wee Small Hours, there literally was no precedent for a "full-length" LP (long player) devoted to popular songs? Until this time, only classical music and Broadway musicals were accorded the honor of an uninterrupted flow of music per side.
The great advantage of the 12-inch 33-? rpm (revolutions per minute) vinyl LP, introduced around 1948, was the length of each side, lasting around 17 to 25 minutes. Prior to this advance was the 10-inch 78 rpm record, which held about three minutes of music per side. Later came 10-inch extended play (EP) recordings, which were released in both 33-? and 45 rpm formats; and singles, commonly known as 45s, which were the mainstay of jukeboxes.
Pop artists made do with smaller formats: The standard pop "album" was a collection of 7-inch singles or 10-inch extended play (EP) discs bound together in a package resembling a photo album. (This is how the term "album" came into use to describe a long-playing record.) When listening to these collections, there was a lot of standing up and flipping discs until automatic disc-changing record players became widely available in the late 1950s.
Sinatra Demanded – and Eventually Received – Respect for the Pop Artist
Soon after his arrival at Capitol Records, Sinatra began to use his considerable leverage to recast the way he was presented to the public, and how they would therefore appreciate his music. He demanded that his style of music be treated with the same respect accorded to classical musicians in every respect, but primarily in public presentation. He wanted his recordings to be released in the extended format of the 12" long player, rather than the more disposable pop presentations of singles and EPs.
Sinatra wasn't successful at first. Both Songs for Young Lovers and In the Wee Small Hours were initially released as double-disc sets of small-format records. Sinatra upped his pressure and, partly in response to the initial acclaim it received, Wee Small Hours was given a reissue. It was the first pop album ever released in 12-inch format.
An Innovation Becomes the Standard, and a New Art Form Soon Takes Hold
Until music streaming became the industry standard in the 2010s, the pop music LP was the centerpiece for mass-audience musicians seeking to connect with their fans. Think of the "rock revolution" of the '60s: In many ways it was established on the back of 12-inch albums. Progressive rock, for one genre, was long-form music that needed a full side of an album to express its ideas. "In-A-Gadda-Da-Vida," anyone?
In addition to the industry innovation of long-playing records, Sinatra also broke new ground creatively with his song selections on each of the paired recordings. By narrowing his focus in both tone and theme, he succeeded in creating discrete, distinctive musical "journeys" for his listeners. No longer was listening to Sinatra's music a mix of styles gathered from his hit singles; instead, it was an extended reflection of Sinatra the artist's mood.
Sinatra first started singing professionally with a vocal group called the Hoboken Four, which won an "Amateur Hour" competition that rewarded the group with a national tour.
Despite a few early experiments by others, Sinatra produced the first well-recognized, sustained series of what would later be called "concept albums," a standard that makes the Beach Boys' Pet Sounds and the Beatles' Sgt. Pepper's Lonely Hearts Club Band also-rans, late by about 15 years after Sinatra planted the flag on that achievement.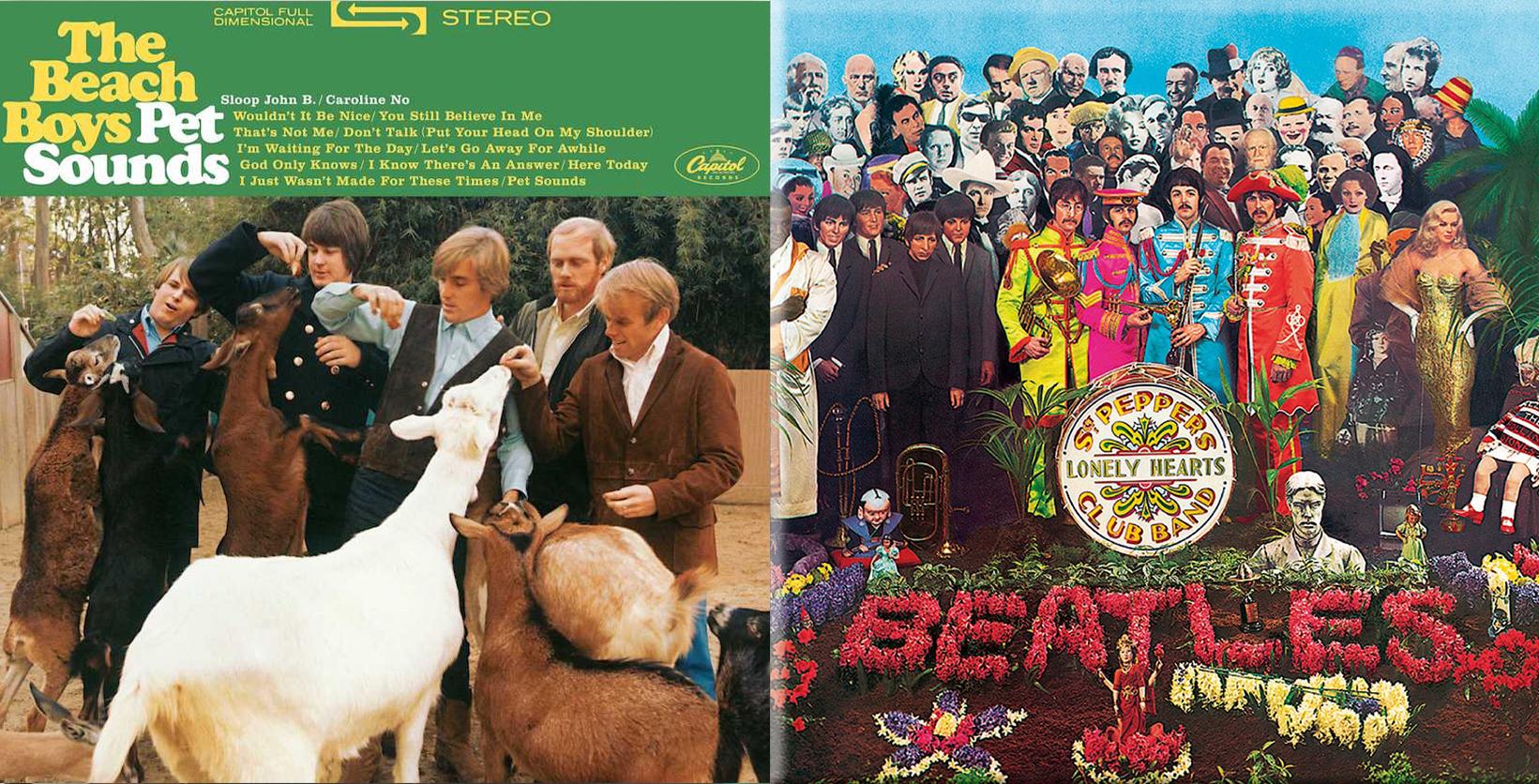 (Image credits: Capitol Records)

Sinatra the Innovator
At his best, Sinatra had a profound effect on the recording and production of pop music. That influence began in his day and lasts even to the present, as seen in the renewed popularization of long-playing vinyl albums, while most of a diminished recording industry focuses on music streaming platforms to produce and distribute songs.
From the 1960s to the end of his career in the '80s, Sinatra followed his own idiosyncratic path in movies and music. One might quibble over the artistic choices he made – such as starring in a series of Rat Pack films that felt more like party vehicles than the serious films he made in his prime – but he had a solid audience base that he knew would accept him no matter what he got himself into.
In music, he continued to experiment during his later years, making numerous jazz albums with collaborators as diverse as Antonio Carlos Jobim, Duke Ellington, Rod McKuen, and Count Basie. But for Sinatra purists, there's nothing that touches the soul like that string of pop LPs he made in the 1950s. That's where he "made his bones" as a serious performer and sensitive interpreter of lyrics. And, in my view, that's where any serious investigation into Sinatra the innovative artist should begin.
Ω
Kevin Martin is Senior Writer for MagellanTV. He writes on a wide variety of topics, including outer space, the fine arts, and modern history. He has had a long career as a journalist and communications specialist with both nonprofit and for-profit organizations. He resides in Glendale, California.
Title image: Screenshot of Frank Sinatra from the trailer for the film Pal Joey, 1957 via Wikimedia Commons.