Wolfgang Amadeus Mozart came to fame during the Age of Enlightenment. His compositions were informed by the spirit of that era, and Enlightenment ideas were integral to his music, particularly the operas. In fact, whether we would even have some of his most beloved operas without the guiding principles of the Age is doubtful.
◊
Mozart's genius did not spring forth in isolation. In fact, he was very much engaged in the world around him, and his "moment," so to speak, coincided with the full flowering of the Age of Enlightenment. New thinkers – among them Voltaire, Rousseau, and Diderot – sought to flush away medieval attitudes about religion and the "divine right" of kings and replace them with a revolutionary faith in reason, order, and science.
Watch In Search of Mozart now on MagellanTV.

The Enlightenment formed the essential background for Mozart's musical innovations much as the post-war 1950s and '60s social upheavals provided a foundation for the emergence of rock and roll from the blues. While not abandoning forms he had inherited from earlier masters such as Handel and Bach, Mozart energized these forms with a depth that reflected a profound sense of order and the joy of a new, playful interaction with liberty. In short, you could say that Mozart was the "rock star" of his time.

Mozart and the Freemasons

Mozart was influenced enough by the new currents of thought that he joined a Viennese chapter of the Freemasons. The Freemasons, a society extant for centuries prior to Mozart's affiliation, believed in rationalist, humanist thought. They gladly welcomed Mozart to their ranks, as Freemasons saw in his creative work an openness to new ideas that were harmonious with their own.

Such thinking was very attractive to the ever-searching Mozart. In fact, Mozart wrote a number of pieces for the Freemasons and their rituals, including a cantata (for all male voices) entitled "The Mason's Joy" and the Masonic Funeral Music.
Was Mozart an Illuminati? This is not, in fact, such an outlandish idea. But the answer, finally, is no. Despite sharing certain philosophical outlooks, the Freemasons and the Order of the Illuminati were separate organizations; membership in one did not equate to membership in – or even agreement with – the other. Despite centuries of rumors and purported "proof," we cannot place Mozart in the ranks of the Illuminati. He was certainly familiar with their beliefs, but the proven association ends there.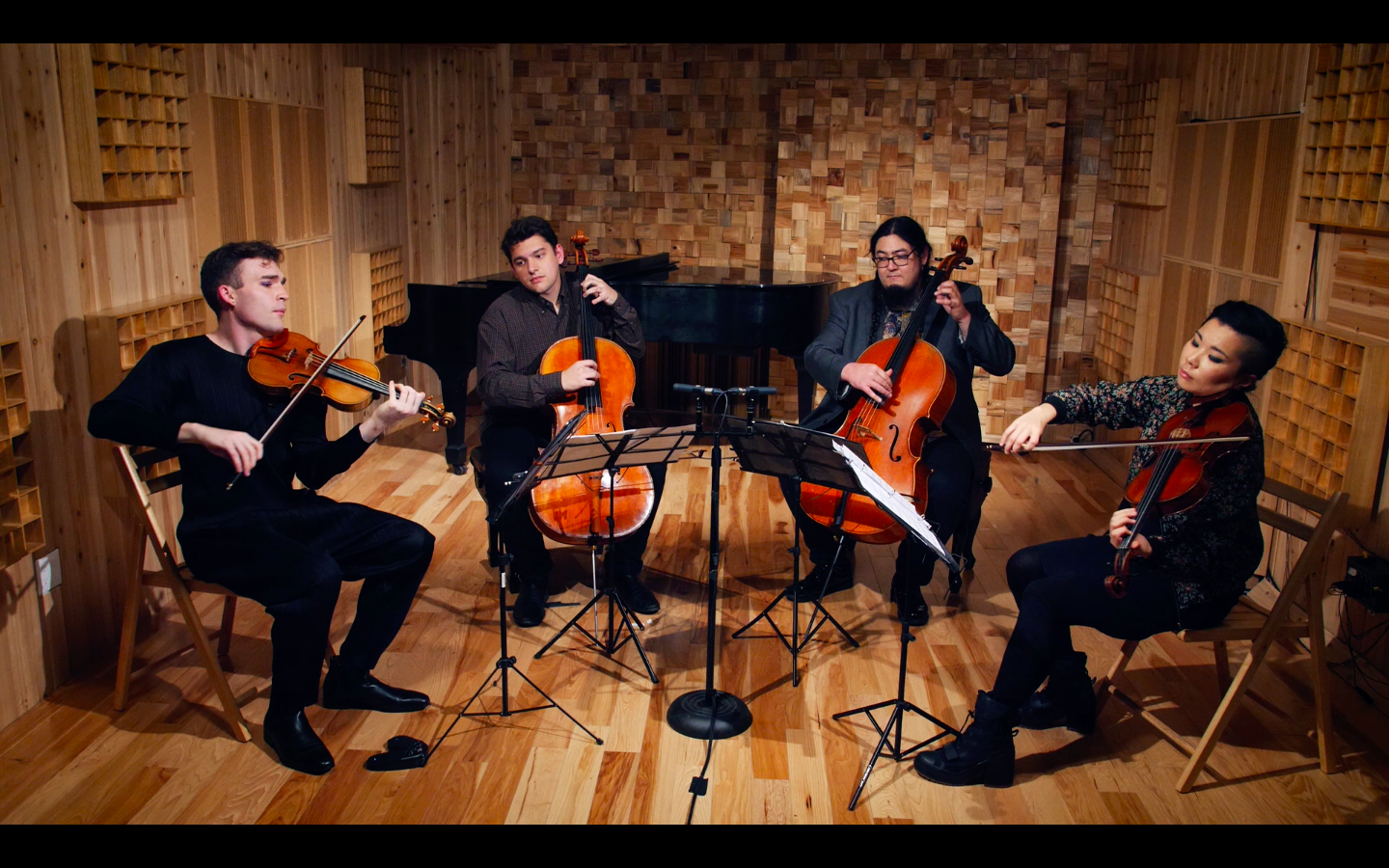 Owls chamber quartet perform in the studio (Source: Owls and Skillman Studio, via Wikimedia Creative Commons)
How Mozart's Music Was Influenced by Enlightenment Principles

Mozart, for all his reliance on income from royalty, breathed the same air as the Enlightenment's leading exemplars, and he brought that fresh awareness to the music he created. After all, his was the time of the great revolutions in America and France, both successful anti-monarchist upheavals led by intellectuals rather than the aristocracy. And he was aware of, and a supporter of, the ideas behind these revolutions.

Mozart's expression of Enlightenment ideas – inspired, at least in part, by his association with the Freemasons – is perhaps most apparent in his later operas, particularly The Marriage of Figaro and The Magic Flute. The Enlightenment ideal of human equality is given full expression in Figaro, which presents the romance and marriage of a servant as a story as worthy (or more worthy) of celebrating as the story of his master. And in The Magic Flute, Mozart succeeds not only in subverting the medieval tradition of the hero's journey but has the hero reject the old order for the love of pure reason.

It is impossible to estimate how important Enlightenment ideals were to his composition of The Magic Flute. Structurally, the opera depicts these ideals in action, and Mozart, I believe, would not have been able to compose this masterpiece without embracing them.

Musicologist Marianne Tettlebaum, in her essay "Mozart in Search of Enlightenment" (published in 2007 in a volume titled Mozart – a Challenge for Literature and Thought) makes the case that Mozart's music is closely entwined with Enlightenment ideas:

Mozart's relationship to the Enlightenment [finds expression in] Mozart's music, especially his operas: the struggle of the proto-bourgeois Figaro to outwit his superiors; the exploration of questions of freedom and morality in Don Giovanni and Cosi fan Tutte; and the celebration of . . . education in Die Zauberflote. . . . There are, indeed, overwhelming thematic parallels between the plots of Mozart's operas and the concerns of Enlightenment thinkers. Morality, social hierarchy, knowledge, freedom . . . truth – these concepts are central to Mozart's operas and to Enlightenment philosophy."

Mozart's Requiem: Expressing the Enlightenment in Music

Even a "sacred" piece such as the Requiem shines a light on Mozart's embrace of Enlightenment thought. Set within several passages that focus both on stoic and full-throated emotional expressions of grieving and sorrow, there lies a section of quiet, reflective reverie called Recordare (in English, "Think" or "Remember"). While the German lyric translates as Remember, gentle Jesus, that I am the reason for your time on earth, do not cast me out on that day, the musical accompaniment evinces the Enlightenment ideals of peace, order, and serene rationality in their harmonic "intimacy and tenderness . . . the Requiem's only vision of a world not wracked by pain or lament."

Aesthetically, the piece is a moving meditation on grief and loss, which music journalist Tom Service has called "uniquely heartbreaking," and "devastating in its beauty." In its final accounting, it is an ineffable work of musical majesty, a full-spectrum visit to sadness, terror, and, nestled within those sections, peace, acceptance, and serene love.

Poet James Wright may have said it best when, considering the undying legacy of Mozart's music in its many forms, he stated what many of us must feel upon experiencing the maestro's music:

"Bach is the greatest of the human composers, but in my opinion Mozart is an angel. I think he is the greatest thing who ever . . . he is the spring. I think he was an angel that came to the earth."

Mozart and the Enlightenment in Action

The Enlightenment was a time of great cultural and political foment, and great thinkers throughout Europe were espousing new and revolutionary ideas. Perhaps no one was more deeply affected by these new ideas and forms of thought than was Mozart. He actively participated in the dissemination of these ideas not only through his association with the Freemasons' Society, but also through his passionate, profound, and precise musical compositions. He brought to his audience new ideas and ideals, ones that resonate in our own day.
Ω
Kevin Martin is Senior Writer for MagellanTV. He writes on a wide variety of topics, including outer space, the fine arts, and modern history. He has had a long career as a journalist and communications specialist with both nonprofit and for-profit organizations. He resides in Glendale, California.
Title image: Mozart's audience with Emperor Francis I and Maria Theresa in Schönbrunn Palace, 1762 by Eduard Ender, 1869 (Source: Mozart.com, via Wikimedia Commons)